Overall = Rating: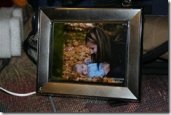 The recent rise in popularity of digital photo frames is no real surprise.  You can't get a phone without a camera anymore, there are hundreds of models of digital cameras priced at or below $100.  With all those cameras, we have to have a way to display the pictures without paying for printing, right?
The market is currently flooded with photo frames.  Everyone is making them, and some are making them dirt cheap.  During the recent "Black Friday" deals, I noted frames starting at $29.99!  I bought one.  Wouldn't you?  With such a price, one is forced to ask the following question: What kind of quality can I get out of a thirty dollar frame?
The answer is pretty simple – meh.  It has almost no onboard storage space and the display quality is moderate at best.  It only supports a few card formats, only accepts JPG images, and lacks in options.  What if I want a nice photo frame with lots of onboard storage space and great image quality that accepts a bunch of card formats, image formats and has tons of options?  The Image Moments line from Digital Foci promises all those things, and more.
Upon initial inspection, it's a nice looking unit.  Very clean lines and classic look.  The 8″ model includes interchangeable frames, so you can choose which frame works best with your decor.
The display is clean and crisp.  You can certainly tell the difference between this and the cheap model that I purchased.  Each photo transitions smoothly without jumping.  The display is bright and easy to find small details.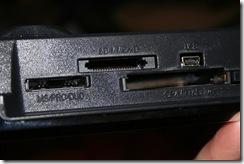 The internal storage space is great.  The 5.7″ frame can display images at 640×480 (800×600 for the 8″).  If I were to shrink all my photos to that size I could easily fit thousands of pictures on the internal 450MB without the need for an external storage device.
The Digital Foci frames accept CompactFlash, SD Card, SDHC Card, MultiMedia Card, xD-Picture Card, Memory Stick, MS PRO, MS Duo, and MS PRO Duo memory cards so that no matter what your camera, this frame likely takes the card you have.  These frames also accept JPG, BMP, RAW, TIFF, and GIF image file formats.
The menu system and on screen options on the Digital Foci frames are the best that I have had experience with.  You can view your photos in thumbnail view, which is great for when you are searching for one photo to show someone.  You also have the option of organizing the photos into folders for quick access.  You can even specify playlists so you can have a different set of pictures playing when family comes over, and then switch back to a different set of pictures when you are the only one home.
The Digital Foci frames offer an interesting feature that you cannot find on cheaper models.  The photos are automatically rotated based on the EXIF data.  Now this feature greatly depends on your camera.  Mine automatically senses if it was turned to take a picture and stores that information.  The Image Moments frame was able to read that and adjust each picture accordingly.  This is a nice feature for someone as lazy as I am who doesn't want to be bothered with rotating pictures before transferring them to the frame.
Now for the tough question, is this frame worth the higher cost?  Value is subjective.  Is it worth it to me?  From a high def perspective, the 15″ model will be worth the money because of the larger view size.  With the 5.7″ and 8" frames, I would likely never look at it that closely to be bothered with how crisp the image is.  The features that really set the DigitalFoci line apart are the large internal storage capacity, the on-screen display options, and the number of different card formats accepted.  You are going to have to decide if those features are worth it to you.
Overall I think the $149 (after rebate) spent on the Digital Foci Image Moments 8 frame is probably worth the money.  Many of the features will be even more exciting on the bigger sized 15" frame due out next year, but they still offer a lot in such a small package.  Just in time for Christmas, I would add this one to my list.
Appearance = Rating:

Quality =  Rating:

Ease-of-use = Rating:

Features =  Rating:

Performance =  Rating:

Value = Rating:


===========
Overall = Rating: