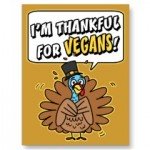 For those of us in the US, Thanksgiving is upon us once again. Like the rest of you, I'll spend my day going between the kitchen and the television. In the morning, we watch the parades. In the afternoon… it's football time! During our dinner, we always take turns going around the table and giving each person a turn to talk about things they are thankful for. When my kids were little, I used to laugh inside when they would say how they were thankful for their favorite toys, or a cute boy in school. They'd remember at the end of their list to throw in "oh yeah – and my Mom too!".
Like anyone else, I'm thankful for my kid and family… my friends… my health… my ability to work. Those are all a given. Let's have some fun, though, and talk about the Geeky things in life that we are grateful for! We're human. It's okay for us to be happy that we have "things", and to be thankful for them!
First and foremost, I'm thankful I have a good computer. I work from home, and much of what I do is resource-intensive. I have to have a pretty decent machine to do what I do. I was fortunate to win an HP TouchSmart last year, and it's what I still use as my main desktop. I love this thing!!
Coming in a very close second would be my cell phone. I live on that sucker! I don't have a fancy phone. Heck – I don't even have a "Smart" phone. I just have a plain phone that lets me talk and text. That's all I need, so why pay for more? Even though it's not fancy, it's still something I couldn't live without. I have an unlimited texting plan, thank goodness. Last time I checked my account, I was averaging a bit over five thousand texts (in and out together) per month! That's more than my teenager goes through.
I don't own a lot of cool gadgets and gizmos. That's left up to my boss. There are several I can think of that I wish I had. Who knows – maybe I'll get some of them one day. For now, I'm just happy that I have a good computer that allows me to work… and a phone that lets me text until my fingers go numb.
So let's hear it – what Geeky gadgets are you thankful for? What pieces of tech could you no longer live without? If you wish to, you're more than welcome to tell us all what you're thankful for in general. You don't have to be American to take the time on Thursday to reflect upon the things in your life that you're so lucky to have. Even if the economy has been tough on you – always remember there are those that have it worse.
Happy Thanksgiving from all of us here at GeeksToGo.