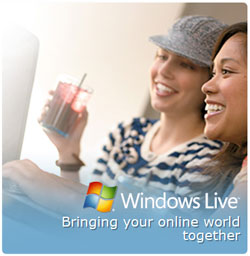 In case you haven't noticed, Google and Microsoft are facing off in a lot more categories than search. Google has been making strides in offering online applications, often free and ad-supported. While Microsoft has traditionally been a retail, shrink wrap software company. With every product that Google announces in perpetual beta, they seem to be encroaching more on Microsoft's turf. Now Microsoft may finally be pushing back.
Google has had some moderate success with applications like gmail, Picasa, Docs & Spreadsheets, Google Talk, and their Google Pack. Microsoft's Live has been widely viewed as the answer to Google's web application threat. Today Microsoft announced Windows Live Suite. A bundle of beta web applications in one convenient download and with a common installer:
This suite of software includes e-mail (Windows Live Mail), photo sharing (Windows Live Photo Gallery), a great publishing tool that lets you post directly to your blog (Windows Live Writer), parental controls (Windows Live OneCare Family Safety), a new version of Windows Live Messenger (8.5), and more.

As you can see, there are many direct competitors. In addition, Microsoft actually beat Google by offering online file storage first (SkyDrive). They've also announced plans to offer Microsoft Works 9.0 with a free online, ad-driven option.
There are some nagging issues in some of these beta applications, but overall it's a very nice package. Windows Live has had a rather low-profile, and sometimes confusing existence. This may be it's coming out party. You'll likely be hearing a lot more about Live services in the coming year.
[Download Windows Live Suite] | [View Windows Live Blog]