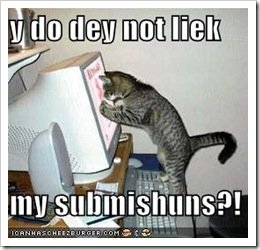 A question was asked recently that stopped me in my tracks. The question was,
"Why is grammar and spelling important on the Internet? I can understand if you're writing a paper for school, but on forums and boards, I never bother".
What? I thought one of the reasons we were taught grammar and spelling in school was so that every sentence we wrote, whether online, in a paper, or a letter to our grandmother, would be clear and understandable. This means not only correct spelling and grammar, but the ability to convey one's idea or question so it can be understood. In my opinion, writing correctly when online is more important, not less so, and I can give several reasons why.
From a staff standpoint, we have an obligation to represent this board in a professional manner. Since ALL of our communication is in writing, it makes it doubly important that what we write is clear and concise. We are giving instructions to people on how to fix or clean their computers. Poorly written instructions, the use of the wrong word, and a lack of clarity could have disastrous results if it leads to one of our members performing a task incorrectly and damaging their computer.
On the flip side, I've seen people start threads asking for help, and their post is so grammatically incorrect and poorly spelled (or uses chatspeak – shudder) that I can't even figure out what they're asking. It can take a tremendous effort sometimes to get the correct information in those cases. An example of what drives me crazy:
"dis morning I turned on my puter and it mad e dis beep and then I got a blue screne n then it resarded and it let me log on n then i downloded sum torrents n now its slow and i gettin popupsp and I rlly nede it 4 scool cuz I hav a papeer i hav to rite and its my dads puter and whatdo I do becuz its not working and this sight said your going to help me what do i do pleez!"
There are several things we don't get from online or written communication. The first of these is visual and audio cues. We have to rely on the written word only. In face-to-face communication, we get facial expressions, body language, and the tone of voice to help us understand the speaker. The second thing we miss in online communication is the ability to get immediate feedback, whether it's the answer to a question or a request for additional information. If your writing is clear, concise, and understandable, this is not an issue; if, however, you're unable to express yourself properly, you've slowed down the communication process, and you can even bring it to a halt.
It's said that you only get one chance to make a first impression. Online, that first impression is made with the written word. What do you want yours to be?