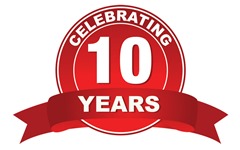 Wow, has it really been 10 years? While the domain had been registered earlier, the forum admin "Joined: 22-May 03". That's the day the forum was started, and the day I consider this site began. 10 years ago today! (Coincidentally, it's also my son's 5th birthday. Happy Birthday Hudson!) While I briefly considered making a big production of this 10-year milestone with contests and giveaways, I always hesitate to put too much focus on the site itself, and some temporary sponsors. This is really a story about our volunteers and the wonderful service that they provide.
Thanks to all the staff, moderators, teachers and admins. All of whom are volunteers, and a without whom this site would not be possible. You're all awesome!
It seems a good a time to recall some history, and how this site came to be. I remember being online, and reading an article on Forbes about one of the fastest growing franchises in the USA called 'Geeks on Call'. I was gainfully employed in sales, worked often from home, and really liked my job. But I always had a passion to learn more about computers (thanks mom and dad). I thought the on-site computer repair business model was a great concept, and started searching similar URLs on a whim. As I recall, geekstogo.com had just expired a few days earlier. I quickly registered it, and to my surprise, actually ended up owning it.
Never having formed a business plan, or any real intentions of starting a new business, I just started playing around. Learning about website design. I put a few pages online that I thought would be seen by just friends and family. Until the day I came home to find a fax in my machine. There was a letter from a lawyer representing geeks2go.com, accusing trademark infringement! I consulted a local attorney specializing in trademark law. He said his retainer was $1,400, and it could easily exceed 10X that amount if it were to go to court. Doesn't matter if they're right. Depends how deep their pockets are, and how long they want to fight it. My introduction to the US legal system. You don't have to be right to win.
Being a half-baked idea, I quickly threw in the towel. A number of months went by. Then I remember stumbling across a new forum software called Invision Power Forum. It was free, and looked nice. Hmm, I thought. Maybe I could use the domain to start a free computer help forum? I was usually the go to person when my friends and family needed help, and I'd already helped at a few online forums and enjoyed it. So I signed up with a small hosting company called Dixie Systems (or DixieSys). They had a hosting plan that cost only $10/year.
I setup the forum software on a Friday. Friday was an office day for most in my company, so I was working at home. Late that afternoon I decided to try and install this forum software on my new hosting account. Surprisingly, it wasn't that difficult. After setting up a basic forum structure, I called my mom the next day (Saturday morning) to see if it made sense to her, and if she could use it. She could! Maybe this has potential?
Also with our first host, was a character named Mike Healan. He had started a site called spywareinfo.com and posted a lot in their customer forums. Spyware removal was an aspect of computers I wasn't experienced with, but was eager to learn. I spent time at SpywareInfo and TomCoyote classrooms, but it was a simpler time, so I mostly self-taught. An experience that lead to our spyware (now malware) removal forums.
I didn't set up any fake accounts or posts in the forums, as seems to be commonplace today. I just waited, and waited… I think it took about a month before someone finally posted a question! I still remember the first few members and their questions. One of the great things about forums, those posts are still there. The questions became more consistent, and I really enjoyed answering them in my free time. It was my hobby during nights and weekends. A lot of Saturdays.
To my great surprise, the frequency of the questions really started to quicken. Traffic to the site grew as well. At times exponentially, doubling every month. Eventually, the forums started to become a chore. I was spending so much time in the office after hours, my wife wondered if I was having an online affair. I remember sitting inside on a beautiful Sunday, wondering what I had gotten myself into, and why I was in front of a computer on such a nice day. That was the same day I received an unsolicited offer to help answer questions in the forums. The start of what would become our "staff". The burden had been lifted. It was fun again.
Those early days were exhilarating. Maybe like a startup of today, but working for the common good instead of a big payday. Over that next year we grew to maybe a dozen "staff". But we had coverage from Hawaii to Europe. We handed off topics seamlessly from one time zone to another. It was an experience that was almost magical. A housewife from Texas, a surfer dude with a mohawk from Hawaii, a teenager from Connecticut, a struggling computer repairman, a couple college students, a stoic Englishman… A ragtag but close-knit group. Also a special thanks to Metallica (Pieter) who later joined our site. He gave our malware removal forum a much needed expert, and legitimacy among peers.
The hosting plan that was $10/year, became $10/month, then $100/month, then became a dedicated server. This site initially accepted donations to help pay expenses. Later, Google AdSense was introduced with non-obtrusive text ads (how times have changed). When Adsense started to pay the bills, and donations were no longer needed, we decided to allow members to donate directly to the volunteers who helped them. A decision that remains somewhat controversial to this day. As always, if you join our forums as a member, you will never see any ads, and donations are never expected, but are appreciated. Our services are always 100% free.
You may be wondering what happened to Geeks on Call and Geeks2Go. Well it turns out that on-site computer repair that charges $300-$400 per visit doesn't make much economic sense when the price of an entry level computer has fallen to about the same. Perhaps I should express a gratitude of thanks to Geeks2Go? However, you may also notice that geeks2go.com now redirects to geekstogo.com. Poetic justice?
Will geekstogo.com be around in another 10 years? With technology changing so fast, it's hard to say. But I think it will. Despite the proliferation of tablets and phones, the death of the PC has been greatly exaggerated. Also, phones are becoming more computer like all the time. Windows 8 Phone runs the same operating system kernel as the PC version of Windows 8. People will use PCs, they'll just be in different formats. Geeks are also tech experts, not just PC experts.
Finally, it's the volunteers that make this site special. Those that enjoy helping others, sharing their knowledge. As long as we enjoy their generosity, we'll enjoy success. I hope there will always be a place for them online. Thanks to all those who have asked questions over the last 10 years, and those who have contributed answers. You're responsible for this site's success, and you're the reason it still exists!