Some of our more "chronologically enhanced" readers might remember a time in their childhood when dad decided that the family should pile into the trusty station wagon (sans seatbelts of course) and see the country (for you younger readers, this time should be referred to as "back in the day"). You might have gone to drive the famed Route 66 or traveled countless hours with your thighs sticking to the vinyl seats to ride a smelly burro through the Grand Canyon. Wherever your ill fated journey's final destination was supposed to be, there was always one part of every trip that was guaranteed to be ever present, the giant multifold map (or if your dad was particularly adventurous, the full sized road atlas of the lower 48 plus Alaska and Hawaii). Have you ever used a standard multifold map? Probably. Have you ever successfully re-folded one back to its original form? I seriously doubt it, unless you've got a doctorate in "map-folding-ology".

Why would anyone go through that hassle just to go on vacation? Well, personally, I wouldn't. I'm a Google Maps addict. I'll fire up Google Maps to get directions to places I never plan on going, just to see what it will show me. You tell it where you are and where you want to go and you get a neat list of road names and exit numbers. SIMPLE! However, I don't always have a computer with Internet access with me (that's a lie…I just got an SMT 5800 with unlimited broadband…review to come) and I, more importantly, rarely know where I actually am at any given moment so I can't enter a start location. So now what? I really want to ride a smelly burro through the Grand Canyon. That's where GPS (or Global Positioning System) comes in. If you don't know what GPS is, turn off your computer now and get back to living under a rock. Here is a simple explanation of how GPS identifies where you are. There are a bunch (also known as 24) of satellites orbiting the earth that send out microwave signals to the earth as they whiz past. These signals are received by a GPS receiver; the receiver "knows" which satellite sent the signal and therefore knows where that satellite should be at any given moment. One satellite won't give you much information so the receiver usually looks for 2 or more signals before it will be able to actually tell you where you are. How do more satellites give you better information? Triangulation! Triangulation uses the known locations of 2 objects to discern the location of the 3rd object. There you go, GPS in a nutshell. GPS navigation systems use the information gathered from the GPS system in conjunction with pre-compiled road maps of the target location. So basically, Google Maps knows where you are so you don't have to.
Take a walk through your local electronics store and you'll see a plethora of GPS navigators for sale. There are many different types, but the two main categories are "In-Car" systems and "Handheld" systems (wonder what the difference is? I don't hunt, and if I'm out in the woods I know where I am (at least enough to get back to my truck) so I don't need a handheld device. I do, however, drive a lot so an in-car type GPS is perfect for me, which is where the Magellan Maestro 3210 comes in. Magellan has been in the GPS game since they were formed in 1986. They also released the first commercially available handheld GPS receiver (the NAV 1000) in 1989, so they should know what they're doing by now.
Let's get physical! The 3210 is compact (3.24″ high x 3.64″ wide x 0.7″ deep) and light (4.94 oz) which makes it ultra portable. Even with its diminutive size it still boasts a 3.5″ QVGA color touch screen, which is more than adequate for navigation. The 3210 comes packaged with a mini USB cable, a cigarette lighter power adapter, a basic cradle, a windshield mount, an adhesive disk (for mounting the windshield mount to a different surface), and a quick reference guide and reference manual CD. Now, I had a few issues with the windshield mount, however, they were all related to my stupidity (i.e., didn't think to mount it on the windshield). So you, not being an imbecile, can surely figure out the mounting hardware.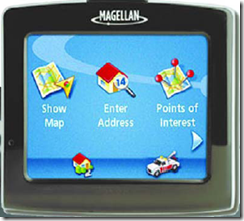 So how does it work? This device is designed to be used in your car, so it expects to be plugged in while in use so if you want to play with it outside of your car you've got to make sure that it's charged first. I was able to do the first charge through the USB cable connected to my laptop (XP detected the device without having to install any drivers). When you turn the device on it greets you with a safety disclaimer about how it's not safe to stare at a magic box on your dash while you're driving (DON'T FIDDLE WITH MENUS WHILE YOU DRIVE! It's not safe). Once you accept that disclaimer you're ready to navigate. The main menu structure is an uncluttered horizontal list of options. From here you can choose your navigation options (by address, select points of interest, or from your stored address book) and modify the settings of the device (tones, colors, default options, etc…). Every button on the main menu is self descriptive and touchable (and every touch is accompanied by a voice telling you what you've selected)
Which way do we go, George? Navigating with the device is extremely simple. Just enter your destination or choose a point of interest from their robust list and start driving. It's really that easy. It even predicts what you're typing in on the onscreen keyboard while you type. If you want to get to Knoxville, you pick the state, then as you start to type K-N-O-X it knows that there is only one city in Tennessee that starts with those letters; it then just gives you the option to pick Knoxville. Once you've selected your destination you can choose between common routing options such as, fastest time or shortest distance (you can even suggest that it avoid all toll roads).
While you're actually driving, the device will announce the distance to the next maneuver and tell you what you should do when you get to that maneuver (In two miles turn left). For more complex maneuvers (you know those exits that are actually two exits in one? Yeah, I hate those too) a "zoomed" or "Split-Screen" view of the maneuver will pop up on the left side of the screen to help navigate you through the tricky spots. Magellan has crammed A LOT of information into their map screens and all of that information is available at your finger tips at any point during your trip. By pressing the icon that displays your heading you can find out information about your current location and heading, such as your current altitude, speed, and the nearest exits in both directions. The name of the road you're currently on is displayed across the top and the next maneuver (or the next road name) is displayed across the bottom of the screen. All of these click-able items are very responsive and easy to get to. Well, what happens if you take a wrong turn? Or if you're traveling down the road and you just can't pass up that "Worlds Largest Ball of Twine – EXIT NOW" sign? Simple – the 3210 will just recalculate its route based on your current location and suggest the quickest way to get back on route. If you want to plan a more complex route you can use the Trip Planner function. This function allows you to enter a start and ending destination with "way points" or stops along the way. This function can be really helpful for those structured family vacations that some of us are so familiar with (Sweet, we get to go to Disney World! Wait, we're stopping to see the house where Abe Lincoln grew up on the way? NUTS!).
Have I mentioned that the device talks? The voice prompts are very handy and at max volume they can even be heard above my radio with the windows down. Now…by heard I don't mean I know what it said with all that other noise going on. I mean I can definitely hear that it said "something" which serves as a notice to look at the screen to discern what it said, which is as easy as looking at the next maneuver and the distance to the next maneuver (aha! turn right in 2 miles).
So how does the thing actually work in real life? Very well, actually. It's a very small and portable device. It's very easy to disconnect from the cradle and slip into a pocket, purse, or briefcase (P.S. NEVER leave your GPS in your car, it will get stolen). It's EXTREMELY easy to navigate the menus and set the device up (I didn't touch the manual except to get images for this review). The default map information is quite accurate (it can't find my work location by address, but neither can any other map service), and there are a lot of addresses that I didn't think it could find by name (like Cigar's Marina in Grand Isle, Louisiana). While the device can be a little "chatty" while clicking through menus, once you start driving it only chimes in when it needs to tell you something. The backlit screen is very easy to see and when dusk arrives the colors on the screen invert to make things easier to read. In the interest of total disclosure, I got lost twice while using this device. And in the interest of honesty, both times it wasn't the device's fault, it was mine. One instance was a particularly tricky intersection of highways on my way to Indiana that involve some quick thinking and lane planning. I've made this drive before so the GPS was just for reviewing purposes. Well, I didn't really know where I was going and I disobeyed the device ("keep to the right" shut up lady! I'm going left!) and promptly took the wrong exit. The second incident was another issue of pride. I was driving from New Orleans to my grandparents' house in the swamps of southern Louisiana. The device told me to take a left when I knew for a fact I should take a right. What I didn't know is that in the 4 years since I've actually made this drive last, the Louisiana highway department finished a road that would have saved me 15 minutes of driving. Since I didn't know that, I continued on my known route and eventually got where I was going. Both of these instances showcased a very nifty part of the routing procedure of the device. When you deviate from its prescribed route, it recalculates the original route to take your deviations into account. This often results in a "when possible please make a legal U-turn", which often isn't possible, so if you continue on your deviation the device will furiously recalculate routes that will get you back to the correct route. VERY handy feature! The only complaint that I can muster about this device is that it's got a route limit of 600 miles. Why? I have no idea, but this means I can't route directly from Knoxville to Detroit, or from Knoxville to Louisiana, so to accomplish either route I would need to pick an intermediate destination and use the trip planner. For a retail price of $299.99 you get a lot of bang for your buck. It's well worth the investment.