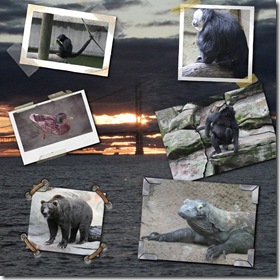 In today's world of digital photography and digital presentation methods, it's not hard to imagine that the old cut and glue method of scrapbooking and photo collages would soon need to go digital. Let's be honest, who wants to dust off the old scrap book to show relatives your creativity when you can just point visitors to a 15" Digital Photo Frame hanging on the wall scrolling through your work?
The advent of such technologies is great. For too long, people have been required to have a steady hand and oodles of time to be considered creative. With software like FotoFusion from LumaPix, any old Joe can give the illusion of being a pro.
Before I go any further, I have to make a confession. I have never scrap-booked. While many may see this as missing out on a great experience in life, I have just never had the time. I have, however, used programs like Photoshop to create collages in the past. I am an avid amateur photographer, and I shoot with a Canon Digital Rebel XTi. I probably take more pictures in a week than most people do in a year.
When first introduced to FotoFusion, I admit that I was skeptical about the practical application for such a software to the normal home Digital Camera / PC user. Even as a "photography enthusiast" I didn't see much of a need for this kind of software.

I ended up getting the FotoFusion Extreme version, which is touted as being for "Professional Photographers and Studios". While this version is overkill for me, as most of the features that are above the Enhanced version are features I will never use, I wanted to be able to test the full functionality of the software for this review. The Extreme version has better output options than the other versions. The printing sizes are unlimited, the output formats are more extensive, and you can do multi-page projects. This version rumbles in with a hefty $299.95 price tag.
There are 2 other versions available. FotoFusion Scrapbook Essentials says it's for "Scrapbookers" . This version is certainly not my cup of tea. This version limits printing to 12"x12" @ 300DPI, limits the text options, and doesn't allow banners or grouping of photos. This version weighs in at an inexpensive $39.95.
FotoFusion Enhanced says it's for "Photography Enthusiasts". This version would likely do everything that I (and your average home user) would need. The output on this version is limited to a generous 13"x19" @ 300DPI which would be sufficient for most viewing and printing. This version weighs in at a manageable $119.95.
Enough of the prologue, let's get on to the review. My initial introduction to the software was via a few videos on the LumaPix website. The videos show someone using the software to quickly resize images, move things, add shadows, change frames, and perform a bunch of other amazing tasks. As with many introduction videos, I was still skeptical. Sure the guy who wrote the software can make it do nifty stuff, but can I?
The download for the software is easy to find, is only 11mb, and downloaded very quickly off their servers. The registration process is painless. Send them your money, they send you an email with registration information. To activate the software and turn it from limited to full version you simply have to have an internet connection and remember your email address. The registration server was down the first time I tried, but I tried again in 5 minutes and the activation went through without a hitch.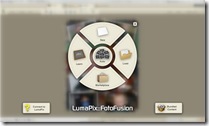 The initial splash screen has a couple options, one of which is video tutorials. I love the video idea for learning how to do something that is so visual in nature. Now, you may ask, how are there video tutorials packaged into an 11mb program download? The videos aren't packaged into the product. You have to have an active internet connection (preferably broadband) to watch the videos. The program itself just provides a simple interface to access the web-driven content.
The videos are well done. The information provided is at a good pace, easy to understand, and works to provide information in a proper sequence so that the basics are properly covered before proceeding to more advanced topics. Admittedly the gentleman doing the voiceover for the tutorials is a bit dry; however, it is an instructional video, and I am not sure how excited he can be.
The interface for FotoFusion is pure genius. This is where this program goes from "nifty" to "holy cow, man!" Adding pictures to your collage is a simple click and drag operation. Resizing the image, adding a border, changing border style, rotating images, shading, redeye removal (and then some) are all right at your fingertips. Not only are these things very easy to find, they are placed in a way that just makes sense.
Having that many things (and so much more) right in front of you might seem daunting when you first hear of it. If I were in your seat, I would probably picture a screen with a tiny picture and tons of menus. This is not the case. All these options are placed into a few easy to use menus and actually on the pictures themselves.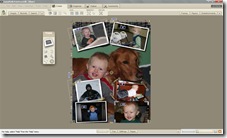 The speed of the interface is amazing as well. I loaded the last collage I did with 24 pictures from my 10mp camera. These pictures are 4-5mb each. To compare, Photoshop with that many images would bog down significantly. FotoFusion was still amazingly fast. Resizing images, rotating images, changing backgrounds, or expanding frames either individually or grouped was still jitter free.
So let's see. Getting pictures into the program is really easy. Working with them while they are there is easy. What's left? Output! We got all this fancy stuff going on inside the program, how do we show it off to people?
Getting your work out of FotoFusion is about as easy as putting it in. A simple wizard asks you what you want to do, how you want to do it, and at what quality. Want to output to an image so you can show it off on that digital photo frame we talked about earlier? No problem. The printing ability of FotoFusion is nothing fantastic, but it has all the options one should expect of an image centered program.
Are you ready to run right out and buy this great software? Hold on for just a minute. Nothing can be as problem free and as perfect as this software appears to be. Let's talk about the downsides.
There is one thing that bothers me more than anything else about this software and it is the way the Embellishments are structured within the program. Embellishments are the things that you can put into your projects to make them look fancy, such as custom frames, borders, backgrounds, or "ClipArt".
When you first look at the Embellishments window, you are presented with a vast array of available knick-knacks to put into your collages. Unfortunately, not everything that is presented to you comes with your program. In fact, most of what is initially displayed requires an extra purchase (even with their most expensive version). There is no warning that you are about to use things that you have to pay for until you try to output the project. In my opinion, the window should open up to what you have and give you a choice to look at the paid-for options.
The Embellishments are purchased on a "credit" system. Each Embellishment that you use in a project is worth a certain percentage of a "credit" (1 / .5 / .25). You can purchase "credits" through the LumaPix online store by month or in bulk. The monthly system is $15/mo (+$15 initial setup fee) and comes with 20 "credits" and an upgrade to your current software version. The bulk offering is 20 "credits" for $20 or 50 "credits" for $47.50. To me the idea is silly and the free Embellishments are, most likely, more than adequate for the normal user.
One other thing that bothered me is that FotoFusion requires the Internet, more than what should probably be necessary. Not just for the introduction and tutorial videos, but for other parts of the program as well. Things that you would expect to be hosted locally like the Embellishments (not all, but some!) load dynamically from the internet. The nice part about this is that it allows content updates to be automatic; however, for those without fast internet it can certainly be a hitch. It seems like most of the material (including videos) could be added via "Content Packs" which could be available for download or on CD at a nominal cost.
With less time going to the store, picking out the right fancy paper, cutting perfectly good printed pictures and gluing things in books, you'll have more time to take pictures. With all that time, who knows what you can create? FotoFusion was a huge hit in my house. For the purposes of this review I created collages of my son, of my favorite hobby, of my new lawn mower, and about 10 other things that I probably should not disclose. With excellent training tools, ease of use, simple interface, and high quality results, I believe this software can find a home with anyone who loves to take pictures.
Rating: