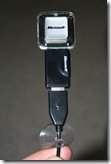 I recently had the pleasure to review the Garmin Colorado 400t. When given the opportunity to purchase the new Microsoft Streets & Trips 2008 (S&T) with a GPS Locator included, I jumped at it. I take my laptop everywhere, literally. For me, turning my laptop into a turn-by-turn GPS seemed like the right thing to do.
I have used the Streets & Trips family of software for a few years now. I like the software. It's always been easy to navigate, had good directions, some great features, and is easily configurable. Older versions of S&T were real heavy and burdensome on the system, but the more recent versions are lighter and run with a smaller footprint.
The Microsoft GPS is a small USB device. It plugs into any USB 1.0+ port on the computer, where it acquires the power it needs. It comes with a USB extension cord that has a suction cup attached so you can hang the unit from the windshield or you can stick it on the dashboard.
In testing, the GPS performed better than I had expected. When I noticed the suction cup on the USB cord, I thought the reciever would have to be hanging from the windshield. I decided to test this. Regardless of where I placed the receiver in the vehicle, it never lost signal. I tried it under the seat, in the glove compartment, in the center console, and even in the trunk. This wasn't as much fun to test as I initially thought it would be, especially stopping every few miles to try another spot. Regardless, I was surprised by the results.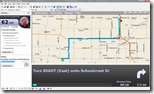 The operation of S&T is really simple. Start the program, start the GPS, enter a destination, and click Go. S&T does the rest. It configures a route based on your system settings from where you are currently to where you want to go.
During the trip, S&T tells you how much time you should have left. Unfortunately it doesn't recalculate this time based on your current position. It's based on where you start from, and how long it should take you to get to your destination. During my tests, I arrived at my destination as much as 15 minutes earlier than the stated arrival time. If you go off course and force it to recalculate a new path, it will recalculate the time. You can help get closer on your estimated time by setting your average driving speeds in the program.
As you drive, S&T gives you turn by turn audio directions. It warns you of impending course corrections, tells you how long you have to stay on the road you just turned on, informs you when you miss a turn or make an unexpected course change, and tells you when you arrive at your destination.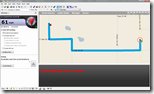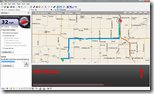 During my testing I purposefully made unplanned course changes and missed turns to see how S&T would react. Each time the computer audibly warned me of my mistake and told me that it was going to recalculate my route. S&T then automatically recalculated the route from where I was to the destination. This process usually took 15-45 seconds depending on the location. At times, the recalculations were merely instructions to go around the next block to get back on the original course. Other times it found completely new routes to the destination.
The only real drawback to using S&T as a GPS is that it relies on your laptop. If your laptop is slow or has bad audio or video you won't get great results from the software. The audio on my laptop leaves something to be desired. In order to hear the voice tell me directions I had to have the radio turned down or off. Alternatively, if your notebook is large or heavy and your car is small, you may have a problem.
Overall Microsoft Streets and Trips 2008 with GPS Locator is well worth the money I paid for it. It's simple to use, accurate, full of features, and reliable. If you are like me and you are going to take your laptop with you anyway, you might as well save the money and purchase this GPS versus going out and buying another piece of hardware.
Rating: