Trying to update your Zune software to the latest release (Version 2.5.447.0) and getting an "Installation Failed" message? If you are, try turning the Windows Firewall on. Yes, that's right folks, you have to turn on a firewall to update a media player. Those power users who choose to use an alternative firewall, or an external firewall are being forced to enable the built-in Windows Firewall before the software will install.
In their infinite wisdom, Microsoft has decreed that you should enable a completely separate piece of their Operating System to be able to update your Zune Media Player. This is nothing new, its been a requirement for a few releases now, but I would have thought by now that Microsoft would have learned the error of its ways.
Does the update say that you are missing a necessary component? No. Does it tell you what you have to do to make the update work? No. It gives you an innocuous message about an error and the only option you are left with is to close the installer and search the web for an answer.
Installation Failed

Setup must stop because the required package 'Zune' failed to install.

DIFXAPP: Rollback failed with error 0x2

Error code: 0x80070643

http://go.microsoft.com/fwlink?LinkID=101253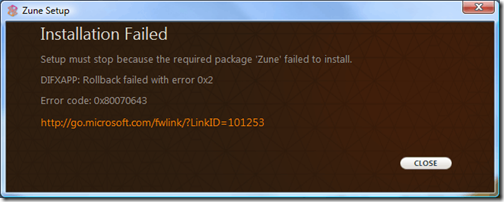 Here is the answer. Go into the services control panel and start the firewall service. Run the update software from within the Zune Media Player and let it complete. Then you can go back and set your computer how you want it.
As per the typical Microsoft update process, the software resets to its defaults so that I have to go reconfigure it the way I want it. It puts shortcuts everywhere that I don't want, don't need, didn't ask for, and didn't give permission for. When will Microsoft learn that it can't read my mind? It doesn't have to be difficult, just a check box titled "leave my settings alone". I would happily click that.
I love my Zune. I even like the software. Especially compared to the alternative. Unfortunately Microsoft has again chosen to take what should be a very simple operation and make it complicated.