My family recognizes my geek side – they may not always embrace it (except when they need something fixed with their computers), but they recognize it, enough that for Mother's Day they gave me a Sony Digital Photo Frame. Awesome – now I have a
place for all the pictures that were taken on a recent trip to Australia!
Physical Characteristics: At 9", this frame is a perfect size for a table – however, it's best to make sure it's an end table or something against a wall, as it requires access to an electrical outlet. The cord is long, which gives you some flexibility; however, having the AC connector smack in the middle of it makes it more unsightly if you don't have furniture to hide it behind.
As I would expect from a Sony product, the picture quality is excellent. The sharply focused and clear display will do justice to your best photos, which would be all you would want to display on here – poorly focused and badly lighted pictures will only have those flaws emphasized. The sleek black glass surround means the frame does not detract or distract from the picture. The display is a TFT active matrix, with a 8.6" active display area, and a display aspect ratio of 15:9. It's compatible with JPEG, TIFF, and BMP formats, and can support RAW, but for preview only.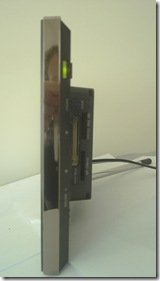 There is a lot of flexibility as far as input/output connectors. For memory cards, there are Memory Stick Pro, SD memory/MMC, xD-Picture card, and CompactFlash card/Microdrive slots. A MiniB usb connector can be used to transfer pictures to and from a PC, you can use a Bluetooth adaptor to transfer pictures from a Bluetooth compatible mobile phone, and you can use an HDMI cable to connect your picture frame to your HDTV (although there is a disclaimer that Sony can't guarantee compatibility with all types of televisions. Since I have a Sony Bravia-sync TV, I can only review that feature).
Saving Pictures to the Frame: So, how well does the frame work? For starters, I used the Memory StickPRO Duo from my digital camera to download pictures. I inserted the memory card, turned on the frame, and there were my pictures. The frame comes with a remote control that can be used to select options and pictures, and that was fairly simple to use. I pressed the Index View button and thumbnail images of all the pictures came up. From there, I could select a picture to see the larger version, and then choose to save the picture to the album on the frame itself. You can also select multiple images or all images to save. I also saved pictures from my computer. When doing it this way, all of the control is done from the PC. The frame shows as an external hard drive, and I selected the pictures I wanted from my Pictures folder, then copied them to the drive. The fact that the frame accepts multiple memory card types meant that I could also easily copy pictures from my daughter's camera, which uses a different card than mine.
Displaying Pictures: I chose to save all my pictures to the album on the frame so I could return the memory card to the camera. Now I can use the frame to display the pictures as a slide show. There are multiple display formats you can use on the frame. I chose the simple slide show, with random effects. The effects are the basic things you find in a slideshow, such as dissolving from one image to the next. I also chose the single image view. You can choose the multiple image mode, which will display 3 images at once. Since this means the images are smaller, I didn't like that option. There are other options for the slideshow itself, such as image display time. The default is 10 seconds, which is a fairly long time to stare at a picture. The shortest time is 3 seconds; you can also choose as long as 24 hours. I actually like that idea – it means you would have a different picture to look at every day, and it would reduce the boredom factor of seeing the same picture over and over again.
In addition to the slideshow itself, there are the options to display a clock or a calendar. I could see this being very useful if you used the frame on your desk at work; it makes it very dynamic. I don't like it for my living room, so I don't use it.
As I mentioned above, I also have a Sony Bravia HDTV. I unplugged the HDMI cable from my cable box and plugged it into the frame, and just like that, I had my pictures displayed on the TV. Apparently there are options to use the TV remote to control the picture frame, but I didn't experiment with that, as I don't intend to keep the frame connected to the TV, and there is already a remote with the frame. Using the TV seems like a great way to play an updated version of "let's bore our guests with our vacation pictures slideshow". No longer do you have to drag out the slide viewer; just plug the frame into the TV and off you go. Although I haven't tried it on any friends or family yet, this seems like a great way to show off pictures, as everyone can see them easily.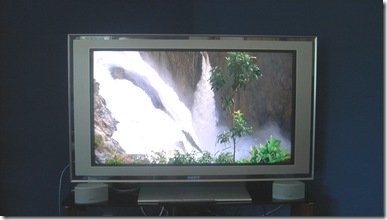 What I Didn't Like: I would like to see more options for tweaking some elements of the slide show, such as timings. The intervals are pre-set, and for a simple slideshow I felt that 10 seconds was too long and 3 seconds wasn't long enough. I would have liked the ability to enter a specific time, like 7 seconds. There is an auto-edit option that claims it will get rid of red-eye, among other things, but I didn't find it very effective. It did improve contrast on some of my darker pictures, but the red-eye remained.
What I Did Like: As I mentioned, the quality of this display is excellent. The different inputs provide a lot of flexibility for loading content onto the frame, and the menus are fairly easy to navigate. There is also the option to turn off the lit-up Sony on the bottom of the frame, which I found distracting. I liked the ability to connect to the TV also – I do look forward to torturing my family with slideshow presentations next time they visit.
In short, I found this to be a great frame. Although it's pricey at $250 US, you don't buy a Sony product with the expectation of bargain prices. If your goal is a high-quality picture in an attractive and discreet unit, you'll get it from this device.
Rating: