Submitter

Atribune
View other files from this member
File Information
Submitted: May 29 2008 10:26 AM
Last Updated: Oct 25 2010 04:23 PM
File Size: Unknown
Views: 41219
Downloads: 12,058





1 Votes (You voted 5)

2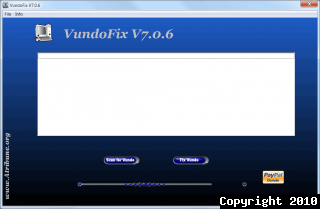 VundoFix is a freeware removal tool for many of the known variants of Trojan.Vundo, Trojan.Conhook and other similar infections.
Normal Usage for Removal:
"Download VundoFix" to your desktop.
* Double-click VundoFix.exe to run it.
* When VundoFix opens, click the Scan for Vundo button.
* Once it's done scanning, click the Remove Vundo button.
* You will receive a prompt asking if you want to remove the files, click YES
* Once you click yes, your desktop will go blank as it starts removing Vundo.
* When completed, it will prompt that it will reboot your computer, click OK.
*****Note: It is possible that VundoFix encountered a file it could not remove.*****
In this case, VundoFix will attempt run on reboot, simply follow the above instructions starting from "Click
the Scan for Vundo button." when VundoFix appears at reboot.
If you encounter a variant of Vundo that VundoFix does not detect or cannot remove please let us know on our forum located at
http://www.atribune.org/forums/
in the HijackThis and Malware Removal section. The forum staff is always happy to help with removal of Vundo and other malware as well.
Random Files
By admin

Feb 23 2007 11:37 AM

By OldTimer

Oct 25 2010 01:15 PM

By a_d_13

Mar 05 2015 12:03 PM
19 user(s) are online (in the past 120 minutes)
0 members, 19 guests, 0 anonymous users
VundoFix
As Featured On: