Submitter
Guest
File Information
Submitted: Jan 11 2016 10:34 AM
Last Updated: Jan 11 2016 10:41 AM
File Size: 103KB
Views: 14075
Downloads: 1,502
Download Remediate VBS Worm 6.0.0





jenxcus
dinihu
houdini
bladabindi
autorun worm
vbs malware

1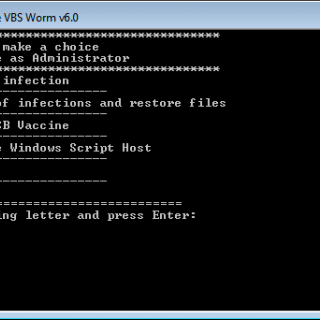 You can use this to remedy the following malware:
 
Bladabindi

Excedow

Jenxcus

Houdini/Dinihu

Autorun worms

Any other VBS (VBScript) or VBE malware

Any other malware that abuses the WSH (Windows Script Host)
Instructions:
You should run the script in the following sequence, at least on a normal machine:
Plug in your infected USB
(if any)
and choose A, then B and afterwards C.
After these steps, perfo
rm a fu
ll scan with your installed antivirus product or perform an online scan. 
Some tips and tricks:
Using option A, the tool will attempt to clean the infection. It will also fix any registry changes made by the malware. (for example it will re-enable Task Manager should it be disabled).
! When you use option B, be sure to type only the letter of your USB drive!
So if you have a USB drive named G:\, you should only type G
This option will eradicate any related malware on the USB drive, as well as unhide your files (make them visible again).
With option C you can download Panda USB Vaccine to prevent any other a

utorun malware entering your computer.

With option D you have the possibility to disable or re-enable the Windows Script Host (WSH), to

prevent any malware abusing it.

 
I advise to end the script with Q as to ensure proper logfile closing. A logfile will open automatically, but is also created by default on the C:\ drive. (C:\Rem-VBS.log)
When the tool is running, do not use the machine for anything else.
(it takes about 30 seconds to run)

If VBS malware is found, it will be automatically removed and a copy will be placed at 

C:\Rem-VBSqt.
Accidentally used an option and want to exit the script? Use CTRL + C to stop it.
More information can be found on my blog post:
http://bartblaze.blo...bs-malware.html
@bartblaze
23/12/2015 - version 6.0.0:
ADDED: logging of USB device ID
CHANGED: Panda USB vaccine download (now on BleepingComputer)
IMPROVED: log output is now completely streamlined and cleaned
IMPROVED: disabling of WSH on Windows XP (option D)
IMPROVED: scanning time (option A)
IMPROVED: detection of certain autorun/VBS worms
Other files you may be interested in ..
By kernel-panik

Jun 15 2019 06:40 AM
Random Files
By Swandog46

Jul 14 2010 09:59 AM

By admin

May 29 2008 10:03 AM

By a_d_13

Mar 05 2015 12:17 PM
11 user(s) are online (in the past 120 minutes)
0 members, 11 guests, 0 anonymous users
Remediate VBS Worm
As Featured On: