Until a couple of months ago, I never had any problems with my power settings at all. I could change them, they would turn the computer into standby/off/hibernation/upside down/inside out/whatever. However, when I tried to change the settings a last month to turn the computer off after a download was complete (setting it to turn off after three hours when the download would be done in two) I found that it didn't turn the computer off after three hours, just left it on. Confused, I went into power settings and found that most of my custom settings were gone and, when I tried to add them back, I got this error message. -->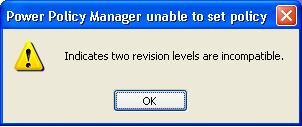 .
Any ideas would be appreciated.
Edited by Mike442, 19 March 2006 - 06:28 AM.