Hello,
I currently have two threads on this board concerning two different problems, so I'm sorry if my name pops up twice, ComputerWiz and SuperSam were nice enough to help me in the other thread, and I'm wondering if any one else can help me fix this other little problem I have.
A while back I bought an external DVD burning Drive and it came with the Roxio media package. I loved the program but it was weighing too much memory on my computer, so as of lately I had to delete it. It had no uninstall file in the startup or directory, so I proceeded to manually delete the files. Well that was well and good, and I have my memory now, but for some reason now everytime I go to move a file into another, or move pictures from my digital camera to the desktop, anything that involves moving a file/folder to another folder, this installation thing pops up for installing it again. I've add/removed the program and this dang thing still pops up.
So here are two screenshots of what I am seeing:
So let's say I move a file to a folder.. this pops up

Then you hear an error bleep (for XP) and then you have to click cancel on this same thing because nothing else pops up..
And after clicking cancel you see this.. and you shut it off and you are on your merry way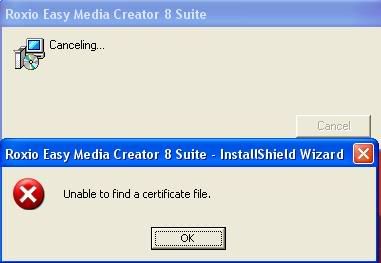 How would I fix this problem?

You are definetely the guys to ask. Thank you for your help.
Sincerely,
Daniel
Edited by hysteria, 30 March 2006 - 02:06 PM.