Yesterday I had major problems with my network and zonealarm. Sorted both but it has left my mozilla in a bit of a mess.
Gifs don't work. I installed latest version from site (1.5.0.4) to see if this would sort the problem, but it hasn't. I tried the ideas give here (
http://kb.mozillazin...Animated_images
) but this didn't sort it either.
Also have a problem when downloading videos. Before yesterday, would show percentage of download, but now it looks like this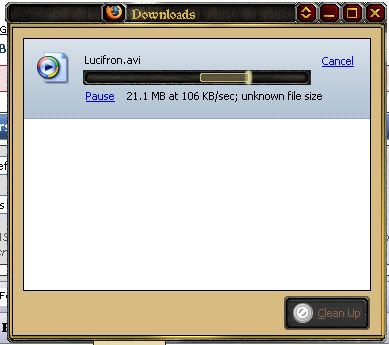 And when finished, some of the files do not work when opened in real player.
The thing is, this happened last year, but an update for Zonealarm sorted it, and it has been working fine up to yesterday.
I have the feeling that this is a problem that has been bought up before, and if so I'm sorry for bringing it up again

All help would be amazing, this problem is not the end of the world, but it is not a lot of fun to have.
Thanks a lot for any replies

Edit: Had a look through search, tried a few of the suggestions, including testing firewall (didn't work), turning off blocking pop ups in zone alarm (hasn't worked) I've noticed this is the same on IE, but I can't remember if GIFs were working before on it (been a while since I've used it for longer than a few secs)
Edited by mirbeau, 02 July 2006 - 05:12 PM.