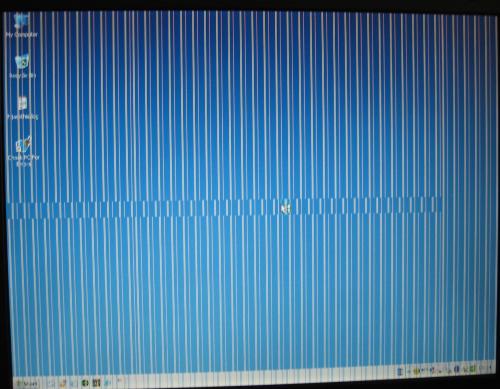 Received following from a helpful chap and now need some serious help.
Your original log showed some malware which we have now got rid of. I very much doubt that their demise will do anything to your fuzzy viewing. That problem sounds driver related and I think you should post a request for help in the XP forum Here

For your information, your HJT is now clean, I see no signs of any further malware in ComboFix log, and I doubt that the dialler found by Ewido would affect your screen either.

Good luck.
I have taken some pics of the problem i am experiencing. Happens when i close pc down and reboot later time. Display goes all vertical coloured stripes and the only way i can rectify is by forcing a closedown and rebooting couple times, this then puts back to normal and lasts full duration im on. makes me not want to turn off !! anyhow spose serious damage could be happing behind the scenes ? i have 4 photos how can i show ???
Edited by fireslguk, 17 July 2006 - 08:27 AM.