Okay, so now for about 6 months my computer has been crashing very randomly. when this all first started I had believed it to be my Nvidia Graphics card causing the problem so I got a new ATI Radeon X850XT Pro, and the problem still occurred. I tried reinstalling windows SEVERAL times and to no avail it keeps erroring out and restarting. So next I got a new hard drive...still no luck. So after that I went ahead and got me a new motherboard as well as a new processor. Still...no luck. So i ran memtest86 about 10 million times to check the ram, and it came back good. I have even swapped it out with known good chips of ram, and again, keeps rebooting. Everytime I did a hardware change, I would reinstall windows....only installing with the minimum hardware required to get the system going. STILL NO LUCK! So to sum it up, I have migrated to a completely new system and cannot seem to get rid of this error. Although the restarting began at about 10 minute intervals, and now 6 months later is is still rebooting (mainly on my gf who is just checking her email) but at longer intervals, days or even weeks, but it still is rebooting. The eventlog is showing: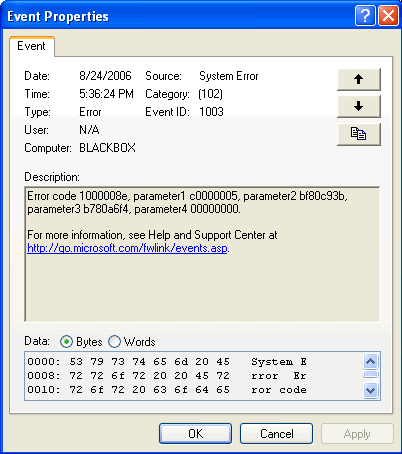 I know this is a very general error as I have seen it before and with many causes. At work we recently discovered ati drivers causing this. however when i set my system to NOT restart on error, i get a blue screen with win32k.sys listed. here is the bluescreen: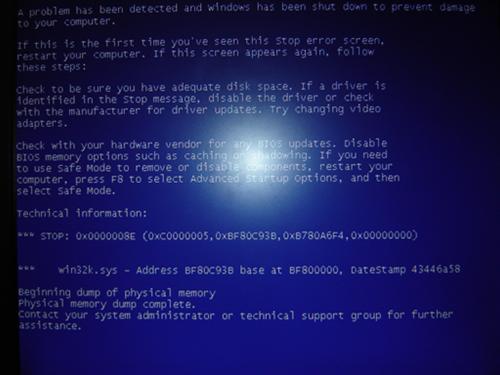 This error is starting to drive me absolutely crazy, please help me out and make sense of this blue screen PLEASE!!!!! before my system ends up MIA!