For anyone interested, here's a graph of website traffic, from our June launch through November...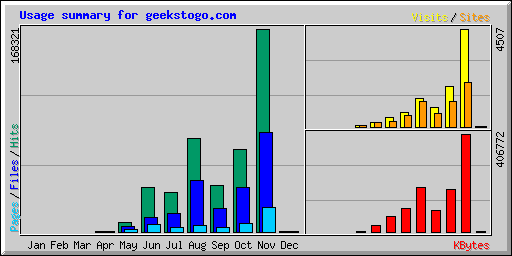 As planned, we got off to a slow start, except August which was an anomaly (lots of worms, RPC shutdown hits, and temporary links) then the last couple months have experienced real nice organic growth. It'll be interesting to see if we can maintain this kind of growth rate.

Search engines are ranking us higher, and I'm adding links to other sites when we think they'll generate positive traffic. We've also added a new
link to us
link on the front page. If you have a website, and would like to link to us please check it out.
In November we had 4,507 unique visitors; 20,703 page views; and 168,321 hits; using 407MB of bandwidth. It's realistic that someday, this may be our stats for one day.
Thank-you all for visiting, for contributing, and for helping to make this grow into the
best online tech support community
!
If there's interest, we may just make this a regular monthly "state of the site" update. Feel free to add a reply and comment about this topic.