Hi, I've recently gotten hold of this laptop but when adding new users and looking into documents and settings, i've noticed something abnormal.
Please take a look at the picture (of all the folders I have in 'documents and settings') below, and keep in mind that I only have 3 accounts in total on this installation.
I can't even transfer profile settings (using copy to... method)...
But someone please help!! It's really bugging me!!
Thanks!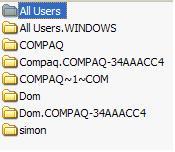 Edited by domyue, 13 November 2006 - 01:55 PM.