Hello:
On our AS/400 at work, we have a partition set up with Windows 2003 Server edition. All of our data was recently moved from our old 400 box to a new box. With the new 400 came a new CD-Rom and tape drive (of course). When I log into Server 2003, I should be able to perform a system backup to the tape drive. That's the way we did it before. When I try running the Windows Backup Wizard, however, I keep getting a message stating that free media isn't present. A new tape, which has been initialized in the 400, is in the drive. I've checked the device manager, and although the drive looked fine, I attempted to download a new driver from the internet. Apparently the current driver is the most recent. When I look at my Removable Storage, under Administrative Tools, however; I see a red "X" next to the tape. Does this mean that the drive isn't working properly? I see a red "X" next to our old tape drive and old CD-ROM (part of the old 400 box). The new CD-ROM looks OK, but the new tape drive also has a red "X". I exhausted all of my resources and am unable to determine the cause of this problem. I'm hoping that someone can help me get this tape drive working again.
Oh, I know the problem is software related because we use that same tape drive for our 400 backups every night. In order for the drive to work in the 2003 partition, we have to vary off the drive from the 400. That step has already been done. The drive is also listed on Microsofts HCL for 2003.
Any other ideas?
Device manager looks fine, only a red "X" in the removable storage screen. Screen shot attached.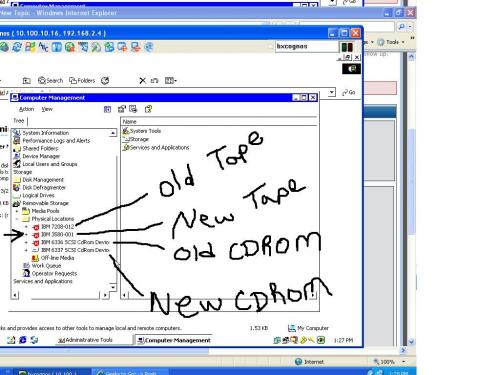 Any and all information will be greatly appreciated.
Thanks,
Magus