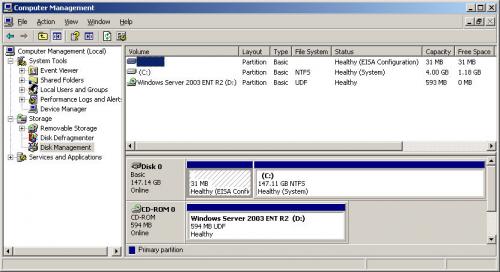 I recently installed Windows 2003 Enterprise R2 on an new Dell Power Edg 800. It has 2, 75 Gig drives
and I configured them through the Dell Operating Setup Disk as Raid 0. On boot up the array is displayed
correctly in the BIOS as 1 virtual disk that is 147 gigs. When in Windows Disk Management I see at the
bottom that drive C: is indeed the correct size. The problem is that in the top window it shows the C:
drive as 4 Gigs and almost full. I even tried the old registry trick wor Windows 2000 by adding the
registry key "EnableLargeLBA" but that didn't help. This is a brand new server so I'm pretty sure I'm
using the latest firmware that came with it, and it seems that the BIOS sees it correctly anyway. Even
Disk Management in Windows shows it correctly in the bottom window. I can't find anything on why Windows
thinks the drive is only 4 gigs.
Does anyone have any ideas?