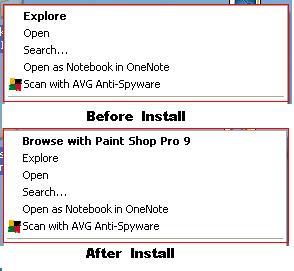 Issue (Windows XP OS SP2):
After loading software on my PC, clicking on a file
Folder
runs the program that was installed.
Right clicking on a Folder opens a drop down box which displays
Browse with
whatever software was installed.
This is effecting most of the folder icons, as I have noticed some are OK.
Example, clicking on STRAT|Control Panel starts the program which was installed as does
Start|My Documents, Start|My Computer and the Folders which are nested.
Right clicking and chosing OPEN or EXPLORE will produce the correct results.
I have included a picture for a better understanding of this issue.
Installing programs are somehow being redirected to most but not all icons ,which in turn, runs the program that was installed.
Hmm! Sounds like a registry problem.

I have received help in the Maleware Forum and have removed maleware from my computer.
Thank You