This is very strange. Everytime I open any type of video or sometimes even go into a folder with videos Windows Explorer "encounters a problem and needs to close" pops up. This isn't being caused by any sort of virus because I've ran everything from ATF Cleaner, AVG Anti-Virus, Clean-Up, and Ad-Aware. When I click the video, before it even starts the winamp screen will come up but I'll get the error message. I've tried opening these videos with Winamp, Windows Media Player, DivX, and even some others and I get the same thing out of each. I have no other programs running then I have for years and this just randomly started happened.
Any idea on why this is happening?
P.S. - I clicked "See More Information" and I got this. Here is the info from Winamp and Windows Explorer.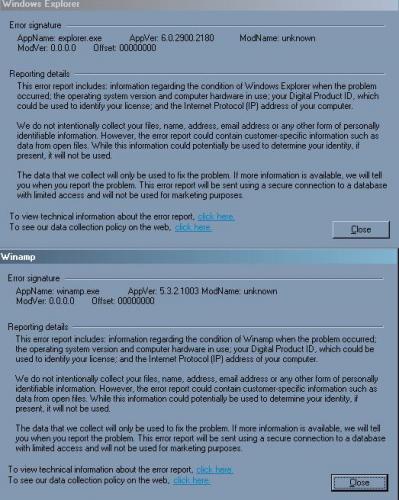 Thank you.
-Adam