Introduction
I have a computer! Yes really, I do! Inside this magical box there is a Radeon X1600. The drivers are old! Driver Date: 21/08/2006
I want to update them.
The Problem
Ok, so I downloaded the Catalyst 7.5 for my card, installed it..in the middle of the install, my screen was flickering and said "Input not supported". I went into safe mode and fixed it using the Device Manager.
I just tried again, same thing happened. Here are some screenies:
This is the driver that
DOESN'T
work: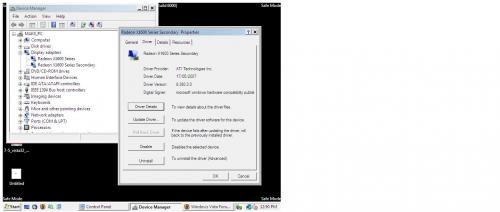 This is the driver that
DOES
work: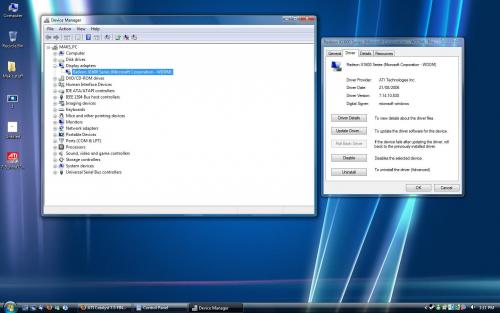 Why does the older driver work, but the newer one doesn't? The first and secondary one are not conflicting *I think*
The old driver is called:
Radeon X1600 Series (Microsoft Cooperation - WDDM)
The new one is called:
So the secondary and the other one are exactly the same, even when I uninstall the secondary and just run the first one, it doesn't work.
My computer works fine without the drivers, what are the benefits to a guy that plays Counterstrike?
I've tried updating my drivers via the Device Manager but it says "The best driver software is already installed"
I've also tried e-mailing ATI and this was there response:
Greetings!

If you are experiencing issues with the Catalyst Control Center starting, or if you are receiving an error similar to "Cli.exe - Application error - The application failed to initialize properly", verify that you have installed the Microsoft .NET component and reinstall the Catalyst Control Center with out any Anti-virus or background applications running. A link to the Microsoft .NET component can be found here:

http://www.microsoft...;displaylang=en

For usage and feature information, the Catalyst Control Center user's guide is also available online at the following location:

http://www2.ati.com/..._user_guide.pdf

If you are experiencing issues with the Catalyst Control Center, such as, missing features, start up problems, errors or other issues, you may need to perform a thorough reinstall of the Catalyst software suite. To do this please follow these instructions:


* Download the latest Catalyst package from our website and save it to your desktop: (be sure to write down the file name, you will need it later)

* Go to add/remove programs in the control panel and uninstall all ATI software that is listed

* Reboot the computer

* Cancel any "Found New Hardware Wizard" windows that open

* Install the Catalyst suite by double clicking on the file that you have downloaded

* Reboot the computer
I don't understand this, and I don't think this will solve my issue.
Well thats about it..
Mak