Windows Edition:
Microsoft Windows XP
Home Edtion
Version 2002
Service Pack 2
System:
Intel®
Pentium® 4 CPU 2.80GHz
2.79 GHz, 1.25 GB of RAM
For the past week, a window would appear like the following...
Then I would proceed to click the "Close Message' button. Then after about 5-10 seconds another window would appear like this...
I then clicked the blue link "Click Here" to see what the error report contained. Which resulted in this window...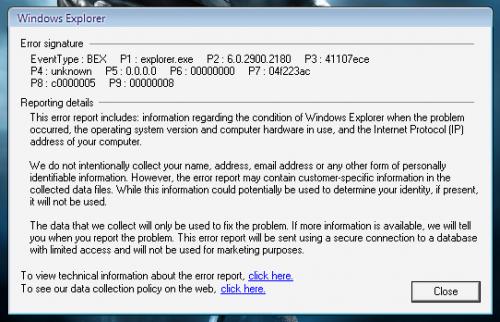 Then I clicked the blue highlighted link to the right of "To view technical information about the error report." Then I got the following window...

My problem is, I have no idea why it's crashing. It crashes randomly, because sometimes I'll be listening to music while browsing the web and those messages will appear, while other times I'll be playing a game called Starcraft and it will appear. I don't think it's a virus or anything related to that, because I use Norton Anti-Virus and Webroot Spysweeper, and I make sure to check for updates everyday, and I recently did full scans for both, and nothing was found except for a few spy cookies; which I removed. I think it might just be a "coding" related issue or a missing file, that sort of thing, but I'm not sure. Is there any advice you could possibly give to me that would fix this issue?
Thanks in advance!
Edited by SithusX, 20 July 2007 - 07:57 PM.