I just put together my new computer, but it's acting strange at times. The computer has the following:
MB: Asus P5K WiFi-AP
CPU: Core 2 Duo 6420
RAM: 2 GB OCZ Dual Channel 1066 Hz (2 x 1 GB DIMM)
GPU: XFX GeForce 8800 GTS
HS: WD 160 GB
CD-ROM & Floppy: these drives came w/ the Gateway computer that occupied the case before this computer!
I just put it together and installed windows, so there are no programs on it except the drivers for the hardware and the ASUS utilities provided with my mother board. It starts up nice and quickly, but shortly after windows starts, the computer becomes sluggish for a few seconds (The cursor stutters as it moves, etc), then returns to normal. The odd thing is that there are no programs running, and the process list shows nothing in the background is using the processor, but one of the processors is completely occupied. It always does this shortly after startup, and sometimes does this later on too, though there doesn't seem to be any reason. I included some screen shots that have more information.
Pictures: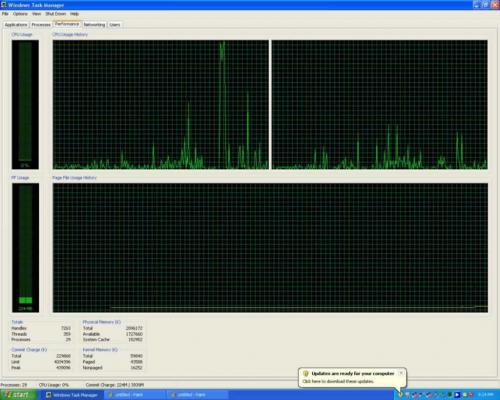 spike.jpg: screen shot of CPU graphs showing one processor completely occupied for a brief period of time. The computer wasn't doing anything in particular during that time.
proc.jpg: screen shot of the processes showing what was running at the time.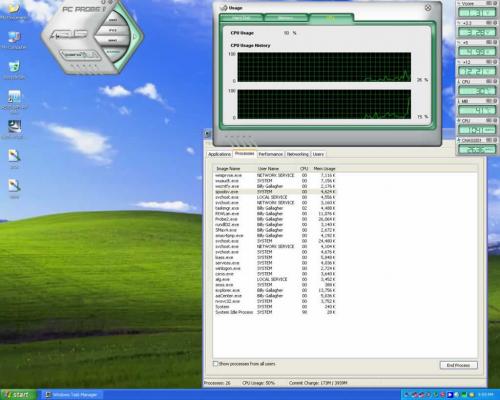 1.jpg: Screen shot during one of these periods, showing Idle Process at 98%, but CPU Usage at 50% (processor graphs shown at top).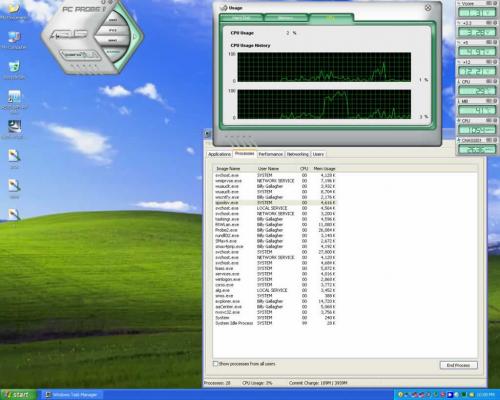 2.jpg: Screen shot following 1.jpg after computer returned to normal.
3.jpg: Another screen shot of the processor list during such a period (idle = 99, CPU usage = 47)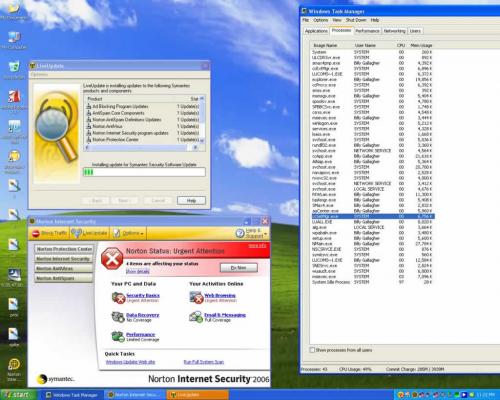 4.jpg: screen shot of another spike after I installed Norton Internet Security (Not particularly fond of this program, but it came w/ the MB, and I'd rather have it than no anti virus. It wasn't installed when any of the other screen shots were taken)