Confusing and frustrating problem, programs/ports being blocked?
Hello,
First post here, sadly we meet because of a problem. I feel a bit like this:

Post is a bit long, and sorry if it is posted in the incorrect area. Let's back track a bit.
On Wednesday of this week (10/10/07), everything was working 100% fine. I then did a standard reboot, because things started running kinda slow (comp had been on for quite a while). Then when I booted back up, it seemed as if certain ports were blocked? (I know some computer knowledge/lingo, but this is above my head.) First and for most I noticed aim would not work. It won't even load. Strangely, AIM will boot up under processes, but will never actually show up on my desktop. I open it, then my mouse goes busy for a second, then nothing happens. This process repeats everytime I open it. Here is a quick screenshot of what I mean: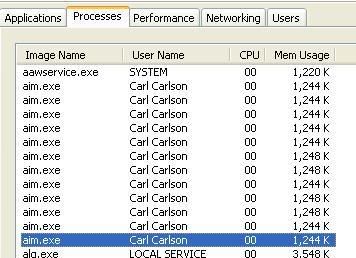 So moving along, I notice other things stopped working. I can also not use MSN. It tells me my username/password does not exist (it does, and is correct). Also, I can not check my gmail or hotmail accounts. If I try going to gmail.com or hotmail.com, it just instantly displays "Unable to connect. Firefox can't establish a connection to the server at login.live.com." Same thing with IE. When I say instantly, I mean it doesn't even TRY to load, right when I click sign-in, that pops up. Almost as if it is being blocked (like I said earlier). Strangely, other websites work 100% fine.
Also, I was curious to see how far this went. I tried downloading a simple torrent file, and it would not connect to it. I also can not connect to my PokerStars, or Full Tilt Poker applications. And like I said, other websites work fine (I'm on the computer right now.)
It isn't my router, I checked the admin panel and NOTHING is listed as blocked. Also I tried just removing the router and directly connected my cable modem to my computer, same problem. I should also mention that I have a laptop, and everything that doesn't work on my PC works on it.
SO, that must mean it's something on my computer. A virus perhaps? Some spyware? I have Norton, however "coincidentally" it isn't working correctly now (it was prior to Wednesday):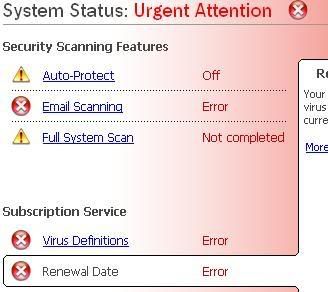 So, is there anything I can do? I tried running a full system scan with Norton and with Lavasoft Adaware and it did not detect anything. I really really really don't want to format, so any advice or anything that you can point me to is greatly appreciated! Thanks.