What's the purpose of DNS
Started by
SHENGTON
,
Nov 02 2007 09:55 PM
This topic is locked
#1
Posted 02 November 2007 - 09:55 PM
What's the purpose of DNS before we can connect to the Internet?

---
#2
Posted 03 November 2007 - 01:50 AM
DNS or Domain Name Server is were a computer or internet connected device goes to find the the numerical address of a URL. Without a way to turn www.anysite.com into xxx.xxx.xxx.xxx you would have to no the direct address of every website you want to visit.

---
#3
Posted 12 November 2007 - 01:51 AM
How about in the DNS server addresses: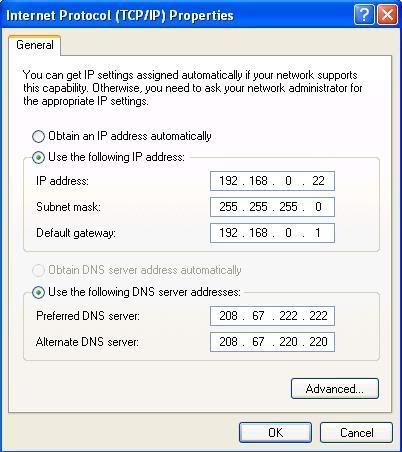 What are this Preferred DNS and Alternate DNS?
---
#4
Posted 12 November 2007 - 05:30 PM
A DNS sever is where the computer goes to translate a web address that you type in into a series of numbers and goes to that address.

So basically you type www.geekstogo.com into Internet Explorer (or any other web browser, it works in exactly the same way). The browser goes to a DNS server either you've specified or it has been given. It converts geekstogo.com into a series of numbers, in this case 72.232.135.12 and goes there.

When you specify DNS servers in the fashion you have, this is the order they're referred to when looking up IP addresses. Basically you go to a web site, the computer asks (in your case) the server at 208.67.222.222 for the proper number. If this server doesn't give a number (for example because its overloaded with requests or offline or generally not working) then the computer will ask the server at 208.67.220.220 for the site's IP. Then it just claims there is no page to find.

You can add as many DNS servers as you like, the computer will just work its way down the list trying to find a requested site's proper address before timing out. A common scenario when connected to a provider is that the provider is so busy with its user-base the DNS servers get overloaded. So you can connect but you can't go anywhere.

---
---
Similar Topics
0 user(s) are reading this topic
0 members, 0 guests, 0 anonymous users
As Featured On: