i had just converted a video and was about to play it when my computer froze for a second and this error popped up: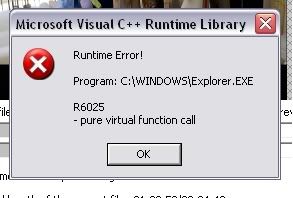 i pressed ok and then it popped up again.
i was running yahoo messenger, aimersoft dvd ripper, internet explorer, and microsoft word along with a windows explorer opened to my videos when the error occured. after windows unfroze, the windows explorer had closed, but everything else was still up and running.
i'm kind of worried because my windows has crashed before after an explorer error.