Hi everyone,
I'm using Microsoft Office 2002 (10.6822.6830) SP3. Every time I try to create a new message I get a prompt telling me:
"A program is trying to access e-mail addresses you have stored in Outlook. Do you want to allow this?
If this is unexpected, it may be a virus and you should choose "No"."
Naturally I do click No and everything seems to work fine. I have run Symantec Antivirus with the most updated definitions and have found nothing.
I don't know what's causing it and it's really annoying to have it pop up every time. Can anyone please help me? Thanks.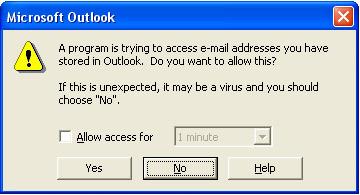 Edited by freik, 01 February 2008 - 10:41 AM.