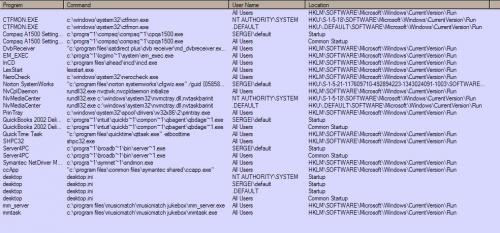 When I upgraded from ME to XP Pro I did not like the start menu. Attempting to control the menu without understanding the system I dragged the Start menu contents of one user account into another. OK.
I tried to delete a Startup folder and was told I could not. I dragged the folder to another startup folder. First time was refused. Second time it disappeared.
I now get duplicate items in the system tray and other problems from programs trying to initiate twice. Including newly installed programs.
A list of startup files is attached from System Information. Sergei is the name of the box and there is no startup folder under default. If I remove shortcuts from all users\ \startup neither instance runs. If I add a startup folder to default\start menu\programs it is not recognized at bootup.
How do I straighten this out?