Hello there!
I have this problem with my wireless router, a
Topcom [email protected] WPR 254g
and my Nintendo Wii. All I want is for this router to work so that I can be able to connect it correctly so that my Wii can get it's access point.
This is what my home LAN consists of:
Thomson Speedtouch 500 series
(520 I believe) - My ADSL router.
Wireless telephone router
(There's a cable from my ADSL router to this "router", and from this router there's a cable to my Switch) - Used for our wireless phones in the house.
Jensen 8 port Switch
- my Switch that gives the internet connection to the 4 computers at home(and it's working fine)
Topcom [email protected] WPR 254g
- My Wireless router that I can't get to connect with my computer/internet.
---
I'll explain it through an image: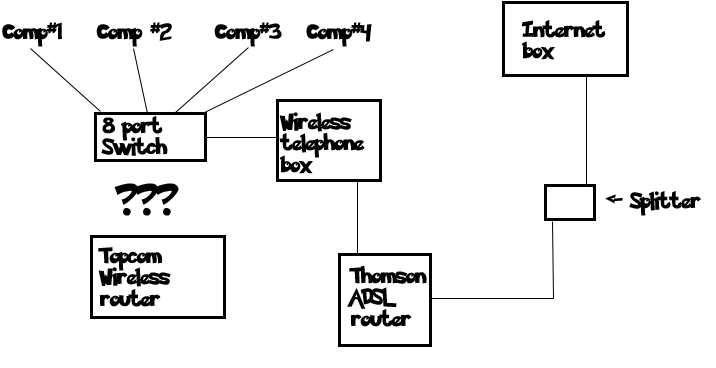 (From Wireless Telephone, the cable goes into Port #1 on the Switch, and Port#2-5 goes to the 4 computers)
I've reset the Wireless Router to make the settings to default. I've tried to have a cable from one of the ports on the Switch to both WAN and Port#1 on the Wireless router, and in addition I've tried to take my network cable from my computer to the Port #1 on the wireless router, and then one cable from Port #2 to my computer again. I lose my internet connection, and I can still not connect with my wireless router.
I can NOT access 192.168.1.1 which is the router's configuration panel. I need to access it to change SSID and open up more settings so my Wii can catch up to it as an Access Point.
Where will I have to put the cable from my Switch to my Wireless router for it to give me connection to it? Or what do I need to do? I feel like I've tried everything, so please, help me out!
Thanks.