I've been having performance problems recently. Sometimes, when I run more than 1 or 2 programs, I get these 100% CPU Usage spikes, as observed in the Task Manager Performance tab, where the mouse freezes up for ~5 seconds every ~30 seconds. They continue to spike without me touching anything...until I close the programs. It is pretty frustrating. Also, when I try to add songs to iTunes or do anything in iTunes or windows media player besides listen to a song, the program becomes "Not Responding"
I never used to have problems like this earlier than a month ago. I thought that it could be malware causing the problem, but I got that cleared up thanks to these forums
. Maybe it is my hard drive. I am just wondering if anyone as seen anything like this before. See attached image!
CPU stats:
1.8 GHz Pentium4
512 MB RAM
Operating System on 4 GB drive
with secondary 80 GB drive
running Windows XP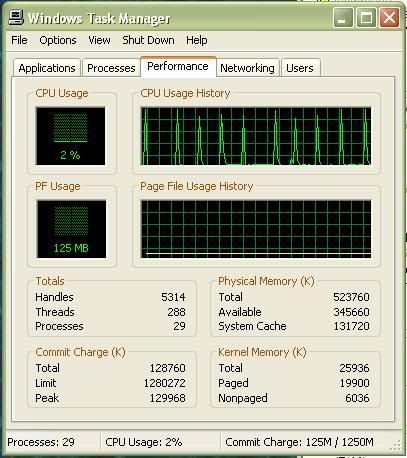 Edited by subliminalmsgr, 25 April 2005 - 10:16 PM.