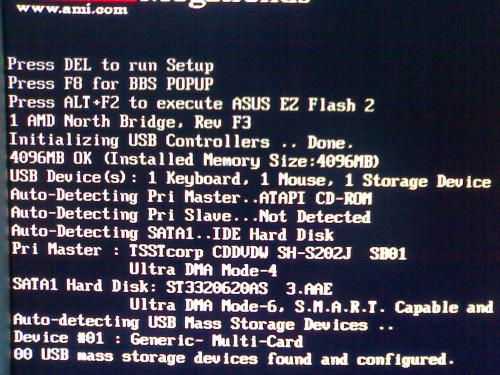 I recently bought a custommade pc on the internet, and i received it by mail today. I plugged everything in and it was fine, i installed crysis and it ran smoothly. I then left my computer to do some business for a few hours. In the meanwhile my bro had turned off the computer on the front switch (don't ask me why). I come back and boot the computer, and it gets stuck at the POST. I went in to the BIOS setup and installed the latest firmware but it didn't work. I can't enter safe mode either cause the comp freezes before the boot options appear. I have attached a photo of the point where it freezes. I desperately need help.
Here r the specs for my comp:
-Asus M3A AMD 770
-AMD Athlon 64 X2 5600+ 2.8 GHz
-Corsair Value S. PC5300 DDR2 4GB
-Seagate Barracuda 7200 rpm 320 GB
-Gainward GeForce 9600GT 512 MB
-Samsung DVD-burner
-Windows Vista home premium 32 bit
Edited by gagd, 03 May 2008 - 11:48 AM.