My problem.
Today when doing a file recovery scan of my hard drive with O&O Disk Recovery 4.1 I discovered that it had a FAT32 partition which I was not aware of. Even more alarmingly I discovered that it had a FoxPro file installed on it. I had never even heard of FoxPro until now. You can imagine my surprise.
Can anyone enlighten me what all this is about because I have never partitioned my hard drive.
Some suggestions!
a) I recently installed / uninstalled a photo recovery program from SysInternals which apparently used a virtual partition. I was wondering if this might have any bearing on this issue as I am still of the opinion that this virtual partition was never removed at the time. The files seem nothing to do with that though.
b) Is it likely that the supplier of my new computer could have installed a second-hand hard drive? How would I know?
c) Are these files something to do with my Windows XP Home installation on the 'C' Drive?
d) Could this be to do with PC Angel Non Destructive System Recovery that was installed with my new computer?
This is what the drive setup looks like.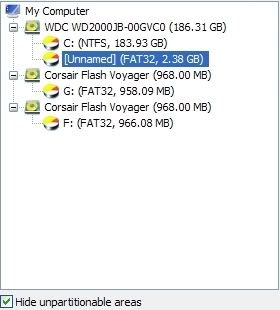 This screen shot shows the contents of the FAT Partition.