Well that's a shame, I wanted to get those uploaded for analysis (it's good news for you though

), thanks for putting up with me.
You can delete
FileFind.exe
You can uninstall or keep MalwareBytes' Anti-Malware - its up to you.
Click
START
then
RUN
Now type
Combofix /u
in the runbox and click
OK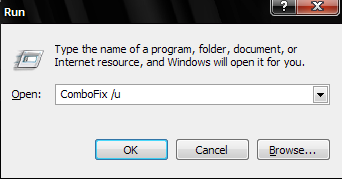 Notice the space between the
x
and
/
-- That needs to be there.
&
please download
OTCleanIt
.
Save it to your desktop.
Double Click on OTCleanIt.exe, a window will appear.
Please press the CleanUp! Button.
This will remove the tools we used during the process of cleaning your computer.
Now that your are clean, you'll want to stay that way.
Some important things that you should keep in mind in order to protect yourself:
Use common sense. This is the big one! Don't download programs from suspicious sites and be careful where you browse.
Things you can do to aviod downloading bad programs:

Google the program. Read reviews and opinions from other people on the internet, if you dont see any reports of foul play - then there more than likely is none.
Stay away from Cracks! However luring the thought of free software can be it's not worth the hassle and potential danger of getting infected.
Download the program directly from the website of the developer - then you can be certain you haven't downloaded a bogus copy.
Read the EULA (End User License Agreement) - Find out exactly what you are downloading. A good tool to aid you in this would be

EULAyzer.

Keep your protection programs up to date! No matter how good your Antivirus or Antispyware program is, without an updated set of definitions it will do you no good against the new infections. If you run a free program make sure to update them at least once a week.
Make sure that windows updates is enabled. Keeping your system up to date is a must - to turn on automatic updates take a look at this

article by Microsoft.
I have listed two programs to boost your security while using no resources.
SpywareBlaster

Take a look at the

tutorial here

.

ZonedOut

Adds thousands of websites to your restricted zone so you'll be protected when you visit innocent-looking sites that aren't actually innocent at all.
Also consider using an alternative web broswer. Two big named ones, both far superior to Internet Explorer in terms of security and performance, would be
Firefox
and
Opera
.
Make a habit of scanning your computer for viruses every week or so and backing up important files regularly.
Please also read Expert Tony Klein's excellent article:
How I got Infected in the First Place
Please post back and tell me if everything is OK, so that I may mark this thread as Resolved.
Edited by Mike, 06 July 2008 - 12:58 PM.