Edit: Problem Fixed.

Ok, I'll try to keep this as short a possible; problem first, story second.
Problem: Every time I boot up my laptop, there is an empty "Programs" folder on my desktop. I delete it every time but after I restart, it appears again.
Story: I was trying out different HD, CPU temp, etc. monitoring programs such as speedfan and HWmonitor. I installed, uninstalled, a couple. but then something odd happened. I go to start> all programs and i see a "programs" folder in the "all programs" menu! I open the folder and it displays all the programs that are in the "all programs" menu. Essentially I have a folder of "all programs" duplicated within the "all programs" menu!!!
So I dragged that folder out of the "all programs" menu to the desktop and tried to delete it. Vista said I could not since I did not have permission, however I am the administrator... So I restart my computer and I am able to delete the programs folder from my desktop.
To my surprise, when I started up my computer at a later time, the programs folder reappeared on my desktop but it was empty. Folder properties show that there is one file in the folder but I searched for hidden files and there are none; I've attached the screenshot of the folder properties.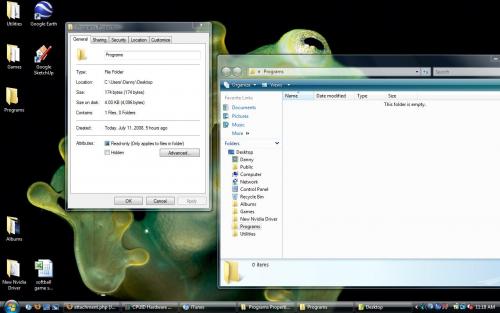 I hope I didn't lose anyone, but that's my story....
Edited by dans1, 11 July 2008 - 07:40 PM.