Ever since the Update Rollout 1 came out in 2005 the update has not stuck. I have installed it many different ways, automatically, manually. There are never any error messages, the update is over very quick (1 minute) and no demand for reboot. And yet when I reboot anyway and go back to windowsupdate.microsoft.com, it still says I need this update. I have tried manually installing the EXE from
http://support.microsoft.com/kb/891861
in Normal mode and in Safe mode. (P.S. Thank You
IconRestorer from FSL
!)
It's like my system has teflon against Update Rollup 1. My concern is I'm missing out on some security features, that something nefarious has hobbled parts of this update. How can I get windowsupdate to deem my system up-to-date Windows-2000-wise?
I have recently eradicated some baddies from my system, and done scans from multiple vendors (Sophos, Panda, F-Secure) to make sure I'm clean now. And then I caught up with 30 recent updates for Windows 2000 SP4 from Microsoft. But still the rollup won't stick.
This issue differs from
jruh's post from 2005
in that (1) I get no error messages and (2) installing the update in safe mode did not help.
Here is the screen capture from windowsupdate.microsoft.com after it claims to have detected what I need. Another suspicious thing: the update is "0KB".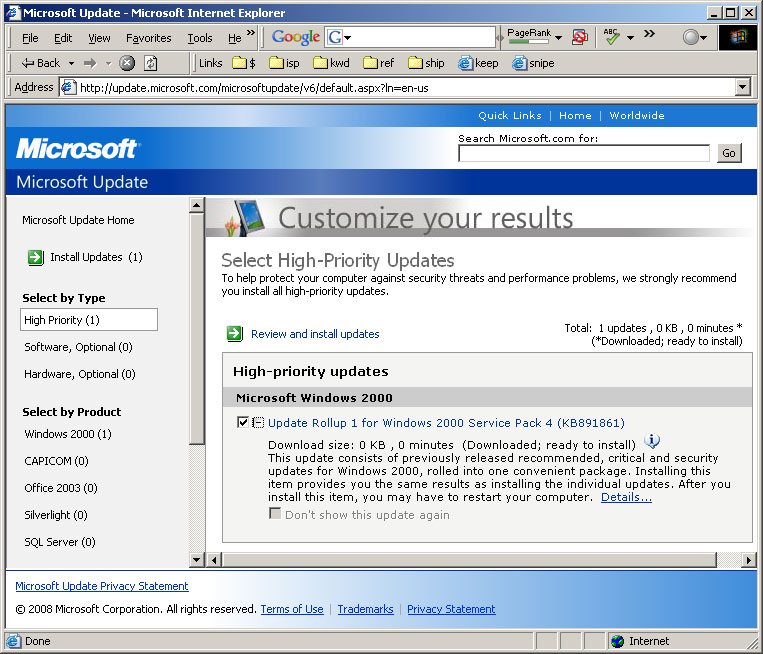 Edited by BobStein-VisiBone, 29 September 2008 - 03:28 PM.