Hey Guys.
I just ran into a problem with my D600, when I try to boot up it says I have a missing or corrupt file (windows\AppPatch\drvmain.sdb). I have an enclosure that I can get to recognize only half of my laptop's hard drive when I open it on my other computer. The drive is split into two partitions because of a flaw in the Acronis TrueImage program I used when I had a failure with the previous drive. The first partition had all the system files in it & then the second partition I used for personal files. It will recognize & let me into the second half of the hard drive.
I get an option when I try to boot up to attempt a repair with the set-up disc that I never got with my laptop. I have an identical D600 that I can use to get any system files I may need, if at all possible. Down below is a screen print with the offending drive hooked up through an enclosure on my PC. Notice drive H isn't showing a size but the I drive is, both of these drives are technically part of the same hard drive. It's an 80GB drive with 20GB allocated for H & the remainder to the I drive that I have full access to without issues hooked up to the PC. I figure if I can somehow replace/delete the corrupted file I'd be good to go, but I can even get to the log in screen, let alone into the folder the file is in. Any help would be appreicated beyond belief right now.
~Ryan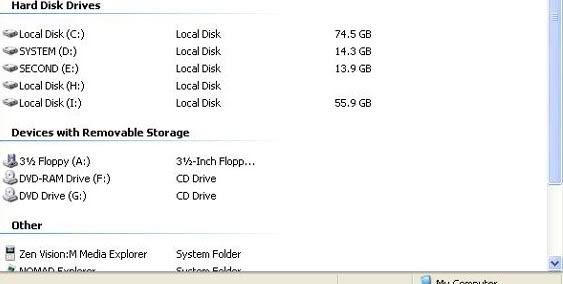 Edited by TheNorthSideWhiteGuy, 14 October 2008 - 03:26 AM.