I recently upgraded several components on my desktop PC, including switching the OS. (List at the bottom of the post.) Something in the new setup is causing the display adapter to black out for short periods of time and in some cases lock up the computer completely. I'm getting the error "Display driver atikmdag stopped responding and has successfully recovered". I searched online for solutions to the problem and found that it is in fact a widespread issue, however no one seems to have a single solution. Rather there seem to be dozens of things that have worked for some people and not for others. I have trouble believing that this problem is unable to be fixed.
I tried quite a few things which I will get into if need be. I'm not sure if I need to go into great detail yet because of what just happened to me today, which seemed like a significant observation.
The most recent thing I decided to test, and the first with some quantifiable results, was my RAM. I got Memtest86+ V2.11 from memtest.org, burned the ISO and booted it up. It looks as though I've got significant memory issues.
Here's a screenshot of most of the way through 1 pass:
One of the reasons I decided to post here was that I don't totally understand how to translate this. To me, 5888 errors = bad. I understand that it's possible there could be something else somewhere in the mix that's causing issues, possibly the CPU or motherboard. I also understand that it could be a single stick of RAM. They were purchased as a pair, though, so if one gets RMA'd they'll both get replaced, so I'm not sure if there's any point in testing them individually.
The other item I read about was that it was possible that my BIOS settings weren't correct and that could be contributing to the problem. I did note that on the
RAM manufacturer's site
they show memory timings of 4-4-4-15, whereas it looks to me that the BIOS has set them at 5-5-5-15. Does that make any difference? Is it worth changing the settings and restesting? Also, is it correct that this is a 3.16 GHz processor and the BIOS shows it as running at 2.83 GHz?
Bios Pics: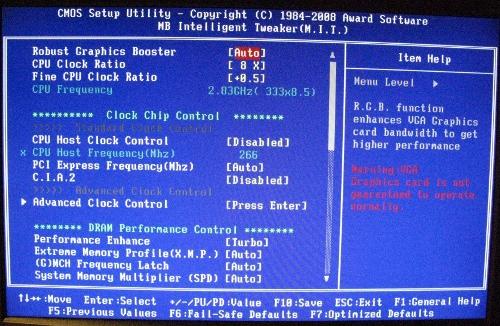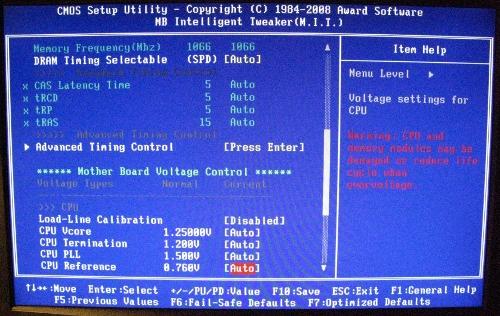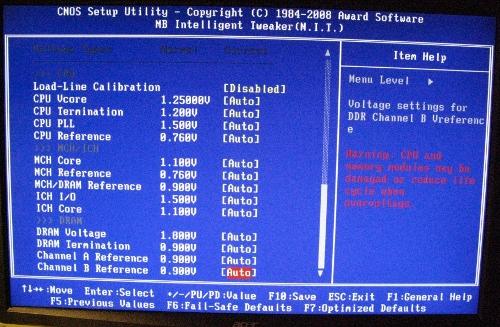 My instinct is to get the RAM replaced and see if that changes anything. I thought I'd check here first, to see if maybe there were something I was overlooking that I could fix before I tried that. Thanks for your help.
System Components
:
Chassis:
Gigabyte Aurora
PS:
SeaSonic S12-600 600W ATX12V
HD:
Western Digital Caviar SE16 WD2500KS 250GB
New Components
Motherboard:
GIGABYTE GA-EP45-UD3P LGA 775 Intel P45 ATX
CPU:
Intel Core 2 Duo E8500 Wolfdale 3.16GHz
Graphics:
SAPPHIRE 100258-1GL Radeon HD 4850 1GB 256-bit GDDR3 PCI Express 2.0 x16
RAM:
OCZ Reaper HPC Edition 4GB (2 x 2GB) 240-Pin DDR2 SDRAM DDR2 800 (PC2 6400)
OS: Microsoft Windows Vista Home Premium SP1