Hi Deadpool57,
We have made some great progress with this new variant. We now know what it is and how to deal with it.
Please
delete RootRepeal
. This is a new way top use RootRepeal to delete this file:
Download
RootRepeal.zip
"You will need to rename RootRepeal to
winlogon.exe
\" and unzip it to your Desktop.
Double click
winlogon.exe
to start the program
and then to the Processes tab. Right-click on the randomly-named process with a name that is usually all numbers, and then click \"Terminate Process and Delete File\", which should do exactly that. Then, click Scan again. If the process isn\'t gone, or re-spawns on reboot, use \"Force-Kill Process and Wipe File\" to make sure it\'s gone.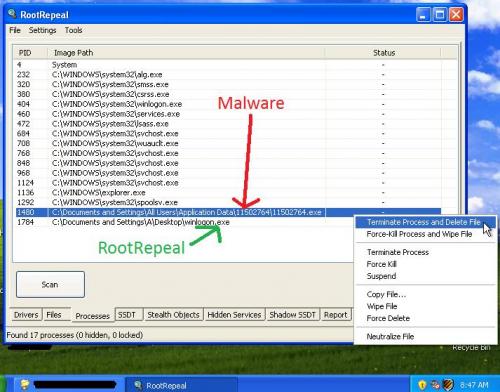 Edited by SpySentinel, 22 July 2009 - 04:56 PM.