I am attempting to troubleshoot an Acer Aspire 3000 series laptop running WinXP which has been suffering from extreme slow-down. I've gone through many standard fixes such as AVG, Spybot S&D, CCleaner, Defrag, ensuring indexing is disabled, etcetera. Some marginal improvement may have occurred, but not much.
The computer's slow-downs occur most often when starting or closing programs, and are accompanied by continuous HDD activity. I just recently made the connection with the computer's Page File and found a website that explained how to read the Performance tab in Task Manager, and it appears that something is very wrong: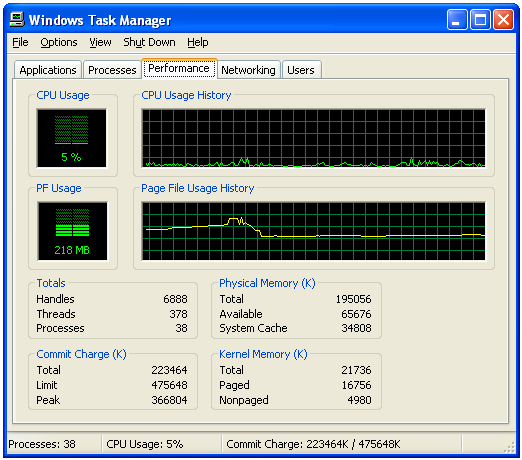 This is what the performance tab looks like
while the computer is idling
shortly after its protracted startup.
No applications are running
, and the computer is already using 110% of physical memory. When basic applications such as Firefox and Word are actually run, this climbs to over 200%. I understand that the total physical is low for XP, but the laptop definitely had adequate operation in its original configuration for two years. (It is about three years old) I have no idea what is using up so much of the computer's memory, but adding up the Mem Usage column in Task Manager's Processes tab only comes to about 25% of the total Commit Charge. I have downloaded and installed Process Explorer, but I haven't been able to make any sense out of the information it's giving me, and I don't know how much memory XP is typically supposed to require just to twiddle its thumbs.
I don't know how relevant this is, but the computer also has what seems a very peculiar partitioning arrangement: the physical drive is advertised on the case (the stickers have never been removed) as 40GB, but the computer instead has two partitions of 17 GB: one ACER (C:) that contains the operating system and all user data, and is very nearly full; and the other ACERDATA (D:) which contains nothing but 200MB of numbered files and appears to be dedicated to system recovery. I do not know if it is safe to put user data on the recovery partition, but even if it is the arrangement looks stupid.
Another concern is that the specifications sticker on the case states that the laptop is actually supposed to contain 256MB of memory, which it certainly doesn't appear to. Someone on another site has suggested that 64MB may be being taken up by something called "onboard memory", but I haven't been able to find out what that may be.
Any help with this issue will be very greatly appreciated.