Hi After having several problems over the weekend I discovered that my Desktop System had been infected by the win32.virut.56 and reader_s virus(es) which I believe are part of the Virtob virus and are therefore near if not impossible to irradicate. Hence the new install of XP.
Whilst trying to find out what was wrong with the infected system I used msconfig to try and stop certain startup programs ie. 3.tmp 6.tmp 21.tmp etc. but they reappeared after every restart as a different one or two digit variant.
AVG free was infected as was Windows Update and neither was able to connect to get a new update. AVG found no infections in a full system scan and three in a Safe Mode scan but upon restarting the infection and startup files where there again.
Whilst looking on the web I discovered your site found some answers and I decided to Backup My Photos , Music , Video and Word and PDF Documents and do a fresh install of XP.
This was easier said than done as the infection had damaged Nero and several other .exe files and their ability to run smoothly.
Unable to burn anything I moved all my documents to a Shared Folder checking every folder that i was moving contained only documents by changing the view settings and looking inside each folder and also using the search facility to check agin for .exe files.
I then connected My XP PC to a laptop with an internet cable running Vista and a fully functioning copy of AVG and copied the files onto the laptop. I know that this was risky but I could find no other option to save my files as anything I downloaded was at risk of being infected and my system seemed to be getting worse all the time with more things starting to fail(near the end I lost the ctrl alt del task manager function and everything was gowing very slowly).
I have since checked the laptop with AVG and also DrWeb Cureit and both have reported no errors.
The new install has gone onto the same hard drive in the same desktop system which was infected.
I started up the system with the XP disk in and followed the instructions which I have done a few times in the past so know the basic procedure.
When asked about partitions on the I opted for a single partition on the 250 GB drive giving me 232?GB as this was done I noticed that there seemed to be an 8GB partition which I presume is assigned automatically (I havent looked into this) and then did a full format of the drive.
Everything seems to have worked ok but I have a couple of concerns which I would like to clear up before I go any further.
1. could the virus have stayed in the memory, bios or the 8GB partition during the format and install ?
2. I have used msconfig on the new install and found a file i don't like the look of in the startup section (foreign Symbols) (please see pictue bottom item)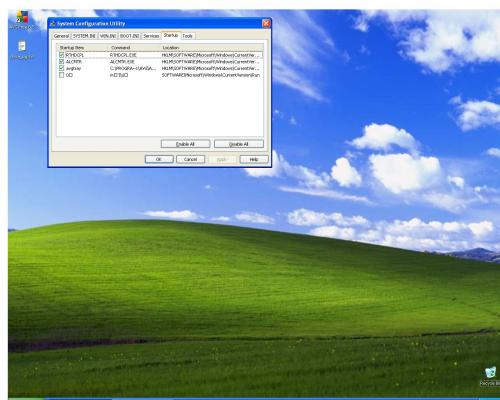 Thanks in advance for any help or advice