I have some Vista problems and would like to know what causes it. Reinstalling the OS is not an option BTW.
-
Frequent explorer crashes; like about some 10/day on an average of 8 hrs. working on the PC. BTW I've heard that SP2 for Vista deals with these explorer crashes. Is that true ? I haven't seen SP2 in my updates so far..
-
Lately my PC froze and I tried to stop this weird instance of explorer.exe in my task manager. It would not stop, allthough I had nothing going on at that time. Usually there are different instances of explorer.exe, but this one was different. So I looked at the path and I found it in my registry .. Someone any idea what this is ?
In task manager:
In registry:
-
Third and last weird thing I recall from having on my late XP OS too, and now in Vista is this behaviour when trying to drag a "window"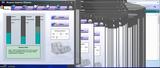 and