First time build: I could use advice picking machine
Started by
Eclipsed
,
Oct 04 2009 07:47 AM
#31
Posted 13 October 2009 - 11:05 PM
All right then! That's a good choice.

Let us know how your build goes and attach some pics too!

---
#32
Posted 14 October 2009 - 02:01 PM
Alright will do, I also might make a first boot vid.

---
#33
Posted 14 October 2009 - 05:17 PM
I was really nervous when I did my first boot... good thing it worked.
Looking forward to seeing your build.

---
#34
Posted 14 October 2009 - 06:45 PM
Oh, I am tempered to that kind of thing. I have wrecked my computer enough times to know that there usually is a base level fix. I'll just check the connections and the power supply, who knows, maybe I will forget to flip the light switch!

I think I ought to get a surge protector though.
I look forward to documenting my build with pictures, the first picture, some boxes
.
---
#35
Posted 16 October 2009 - 08:48 PM
Alright, I need some help troubleshooting. I am starting to suspect a bad motherboard. All the fans come on and all the lights too, but no bios shows up. Then the computer restarts. I have checked all my connections and everything seems in well. I have not left a component out.

I tried clearing the CMOS but that doesn't help. Is there something I am doing wrong or do a really have a busted mobo to start off my first build?

---
#36
Posted 16 October 2009 - 08:57 PM
---
#37
Posted 16 October 2009 - 08:59 PM
Great, It doesn't look all that clean in there. So, how do I go about fixing it? Do I rebuild and watch out where everything goes and make everything clean? Also what do I do about the power supply connections that aren't being used?

---
#38
Posted 16 October 2009 - 09:12 PM
There will always be extra connections.
Zip tie them up if not needed or twist ties.
Get a can of compressed air and blow all the little dust bunnies out. Pay close attention to the fans.
If still no joy then it may be time to look at PSU

---
#39
Posted 16 October 2009 - 11:24 PM
If a short is suspected, then make sure that the motherboard risers (stand-offs) are installed properly.
You can also try running your motherboard out of the case as this would sort out and shorting problem. Try with only one DIMM at a time too.
Are you getting any beeps? Is the case speaker connected to the motherboard?
What is the error code you are getting (look at the 2 digit number display on your mobo and it should correspond with an error code in the mobo manual)
If you got a multimeter then you can check to make sure that it's not a defective unit:
http://www.ochardwar...lt/psuvolt.html
---
#40
Posted 17 October 2009 - 06:17 AM
What are the stand-offs? I am not sure I can find what you are talking about. Also, I didn't think that the antec had case speaker. I already connected every part of the case and I don't think a speaker was one of them. Also my Dr. Debug stops on 83 but that is upside down, so I suspect E8. Both of those aren't listed in the instruction manual.
Edit: Nevermind, I get what you mean by standoffs. They are all in the right place. I forgot to put one in though, could this make a difference?
Edited by ignoramo, 17 October 2009 - 06:24 AM.

---
#41
Posted 17 October 2009 - 06:32 AM
Nevermind, I put the RAM in the two wrong slots.

---
#42
Posted 17 October 2009 - 11:49 AM
They look like this: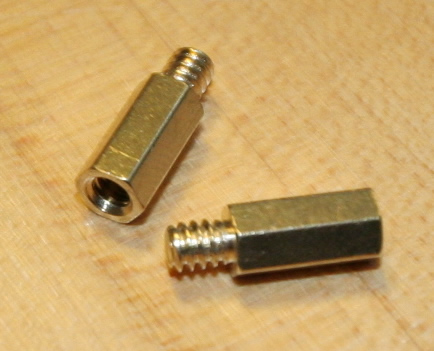 You screw them into the holes corresponding to the form factor of your motherboard (ATX or M-ATX)
Missing one shouldn't make a difference as long as the any part of the mobo is not sitting on the case metal.
Hopefully seating the RAM in the right slots will work.
---
#43
Posted 17 October 2009 - 12:04 PM
Yep, I am typing this on my working machine right now. Everything works great. I can post a few pictures later

---
#44
Posted 17 October 2009 - 12:29 PM
I like my ASRock MOBO. I think I will be overclocking my i5 to 3.2 GHZ just for fun. Not much risk if I only overclock it that much. Does anyone think I shouldn't? Everything seems nice and cool right now.
Also, how long does it usually take to build computer. Mine took about 3 hours of solid time.
Edited by ignoramo, 17 October 2009 - 12:33 PM.
---
#45
Posted 17 October 2009 - 12:51 PM
2-3 hours... if you get familiar you can do it in under an hour.
Try that overclock, it will work fine.

---
---
Similar Topics
0 user(s) are reading this topic
0 members, 0 guests, 0 anonymous users
As Featured On: