Freezing mouse(mice)
Started by
puzzledb
,
Nov 13 2009 10:54 AM
#241
Posted 21 December 2009 - 10:49 AM
Hmm sounds like a faulty connection on the mouse itself. I don't understand why it works with adapter though.

---
#242
Posted 21 December 2009 - 11:02 AM
Hello rsaffer61,
Could it be that the computer does not recognise the mouse when plugged into a USB port?
Missing or corrupted mouse driver come to mind.

With best regards,

Dave.

---
#243
Posted 21 December 2009 - 11:18 AM
I can't see how it could be a driver since the mouse works on a adapter.
Have you by chance tried a different USB mouse?

---
#244
Posted 21 December 2009 - 11:23 AM
Hello rshaffer61,
Yes I tried my old laser mouse and that does not work in any USB port nor when connected using a PS2 adaptor.

With best regards,

Dave.

---
#245
Posted 21 December 2009 - 12:04 PM
I'm at a loss to why anything else USB works but a mouse. If you use a standard PS2 mouse connected to the PS2 mouse connector then the mouse works correctly?
I can't even say the problem may be a bios settings since the system sees the printer and the memory stick.

---
#246
Posted 21 December 2009 - 01:20 PM
Hello rshaffer61,
Yes a PS2 type mouse works fine and a USB mouse pushed into a PS2 adaptor also works fine.
There are 2 USB ports on the front and 4 on the back.The ones on the front even have USB written just above them. When any device is put into the front ones (Ihave yet to try the back ones)then up comes a message saying,"This USB device can perform faster if you connect it to a Hi-Speed USB 2.0 port,for a list click here".
Clicking puts up a window headed,"High speed device attached to non hogh speed hub"
Below is alist of 8 ports.The machine sees its own ports as non high speed (perhaps it means USB type 1).Iwonder why it is throwing up this strange message which contadicts reality?

With best regards,

Dave.

---
#247
Posted 21 December 2009 - 04:08 PM
Hello rshaffer61,
Well after running without fault for a day and a half my computer is up to its old tricks,i.e. feezing at every stage from power on right up to Windows loaded and running for just a few minutes.I have tried a different power lead but that does not change things. I have tried putting the power lead into different household power sockets but that makes no difference either.Oh! by the way the laser mouse has started working again in front USB ports.What does seem to have some effect is taking out the keyboard and or PS2 adaptor.I do not think it is the taking in or out that matters but the pressure used when doing it.This either stops for a short time any shorting out between mother board and case or it makes good, once again for a short time,poor internal electrical connectivity.
Could this all be due to a poor connection some where?
Or perhaps intermittent PSU failure to some component?

With best regards,

Dave.

---
#248
Posted 21 December 2009 - 04:34 PM
Could mean a failing PSU but I can't say that for sure.
It also could be a motherboard issue but it's something that would be harder to diagnose. I am more leaning toward the PSU being a potential problem.
I think somewhere during this I had you download speedfan and if so can you run another test on it.
If not then here are the instructions again.
Download
Speedfan
(The download link is to the right), and install it. Once it's installed, run the program and post here the information it shows.
The information I want you to post is the stuff that is circled in the example picture I have attached.
To make sure we are getting all the correct information it would help us if you were to attach a screenshot like the one below of your
Speedfan
results.
To do a screenshot please have click on your Print Screen on your keyboard.
It is normally the key above your number pad between the F12 key and the Scroll Lock key
Now go to Start and then to All Programs
Scroll to Accessories and then click on Paint
In the Empty White Area click and hold the CTRL key and then click the V
Go to the File option at the top and click on Save as
Save as file type JPEG and save it to your Desktop
Attach it to your next reply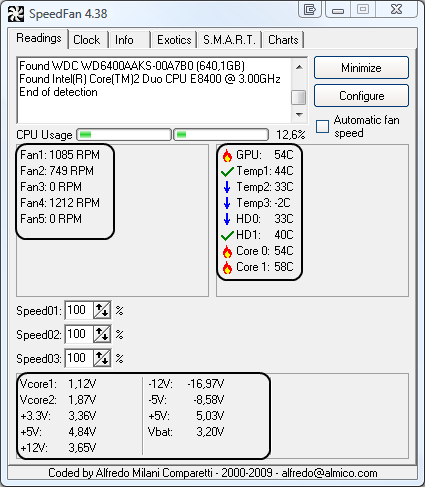 ---
#249
Posted 21 December 2009 - 05:17 PM
---
#250
Posted 21 December 2009 - 05:22 PM
Hello rshaffer61
Hope you got screen shot.Hope there was nothing nasty in the download as I told it to run.I usually save to desktop and then run virus checker before running.Zone Alarm threw up two alerts.

With best regards,

Dave.


---
#251
Posted 21 December 2009 - 05:30 PM
oK CPU seems to eb running alittle warm.
I see no fan speeds running and the fan speeds are running at less the 100%.
Can you click on the left fan speed controls and boost them up to 100% and see if that helps with CPU temps.
Run it for a minute or two and get new readings for me please.

---
#252
Posted 21 December 2009 - 05:37 PM
Hello rshaffer61,
Yes I also noticed no fan speeds but they were running because I could see and hear them.PC froze again and I an using laptop to send this message.I will try to get PC going and up the fan speeds.

With best regards,

Dave.

---
#253
Posted 21 December 2009 - 05:49 PM
Hello rshaffer61,
OK gotPC running and raised all fan speeds up to 100%.System at 40C,CPU at 65C, AUX at .48C,HDO at 37C.
Still no fan speeds showing but they are running for sure.
I notice no CPU usage.

With best regards,

Dave.

---
#254
Posted 21 December 2009 - 05:59 PM
Hello rshaffer61,
I have just noticed new icon has appeared on the screen and it is called "initdebug".Right clicking and looking at properties says that it is MSInfo document but has 0 bytes and size on disc is 0 bytes.
Has this come from Filehippo or the Fanspeed?
Is it harmful?
Its file extension is .nfo

With best regards,

Dave.

---
#255
Posted 21 December 2009 - 06:03 PM
Probably from Speedfan and it is not harmful. You should be able to delete it with no problems.

---
---
Similar Topics
0 user(s) are reading this topic
0 members, 0 guests, 0 anonymous users
As Featured On: