Hi guys, first of all I must thank you all for sorting out all my previus problems by just reading as guest, so now I'm registered and I hope to share my knowledge and share it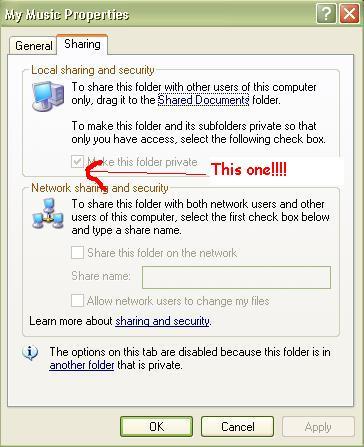 in this board as you do...
I need your help once again. basicly I've got 3 pc on network all connected to a modem router. Now i've done the network configuration on all pc and released an IP manualy on each one. The problem is that, I can't see from PC 2 & 3 the files on PC 1... while 2 and 3 talk to each other no problems, but fro PC1 I can see the shared files on 2 and 3 with no too problems. I check the WORKGROUP name and they are all on the same. I also notice a difference on PC1 if I right click on a folder let say MY MUSIC and click on sharing & security/sharing the Local Sharing and security where it says make this folder private the option is in grey unchangeble wich is showing on other machines. I reckon that if I could untick make it private I would be able to access the files stored on PC1...
Is driving MAAAAD. Help me please, I'm sure that is something simple but I just can't worked it out.