No Sound via the Internet
Started by
spplcs
,
Dec 22 2009 11:53 AM
#16
Posted 28 December 2009 - 11:51 AM
In the above picture please click on
Audio
and what does it show for
Default Audio Device
?

---
#17
Posted 28 December 2009 - 12:23 PM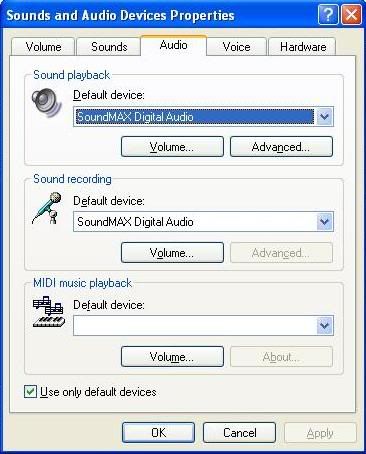 ---
#18
Posted 28 December 2009 - 12:30 PM
Do sounds work if you play a cd or dvd?

---
#19
Posted 28 December 2009 - 12:38 PM
Yes, I just tried it on Windows Media Player when I put in a CD. I do not have any DVDs to try it with

---
#20
Posted 28 December 2009 - 12:50 PM
Are you using IE or Firefox?

---
#21
Posted 28 December 2009 - 12:52 PM
I use Firefox, but I have tried it on both

---
#22
Posted 29 December 2009 - 08:41 AM
Try booting into Safe Mode with Networking and try it there. If it works then we will look at your startups and services for a problem there.

---
#23
Posted 30 December 2009 - 10:04 AM
I booted in Safe Mode with Networking and had no luck with sound on the internet. (I tried cnn.com and youtube)

---
#24
Posted 30 December 2009 - 10:26 AM
I'm beginning to believe it is some multimedia extension not activated in your browsers or you may have a active infection stopping it. All the fix's i have suggested will normally fix the problem.

---
#25
Posted 30 December 2009 - 10:29 AM
I am going to do repair the system files and see if that fixes it. Thank you for all your help!


---
#26
Posted 30 December 2009 - 11:01 AM
Go
Start
and then to
Run
("Start Search" in Vista),
Type in:
sfc /scannow
Click
OK
(Enter in Vista).
Have Windows CD/DVD handy.
If
System File Checker (sfc)
finds any errors, it may ask you for the CD/DVD.
If
sfc
does not find any errors in
Windows XP,
it will simply quit, without any message.
In
Vista
you will receive the following message:
"Windows resource protection did not find any integrity violations".
For Vista users ONLY: Navigate to
C:\Windows\Logs\CBS
folder. You'll see CBS.log file.
Usually, it's pretty big file, so upload it to
Flyupload
, and post download link.
If you don't have Windows CD....
This applies mostly to
Windows XP
, since
Vista
rarely requires use of its DVD while running
"sfc"
Note This method will not necessarily work as well, as when using Windows CD, because not always ALL system files are backed up on your hard drive. Also, backed up files may be corrupted as well.
Go
Start
and then
Run
type in
regedit
and click
OK
Navigate to the following key:
HKEY_LOCAL_MACHINE\SOFTWARE\Microsoft\Windows\CurrentVersion\Setup
You will see various entries
Values
on the right hand side.
The one we want is called:
SourcePath
It probably has an entry pointing to your
CD-ROM
drive,
usually D
and that is why it is asking for the
XP CD
.
All we need to do is change it to:
C:
Now, double click the
SourcePatch
setting and a new box will pop up.
Change the drive letter from your
CD drive
to your root drive, usually
C:
Close
Registry Editor.
Now restart your computer and try
sfc /scannow
again!
Thanks to Broni for the instructions
Revised and Simplified:
Do you have a valid XP CD?
If so, place it in your CD ROM drive and follow the instructions below:
Click on Start and select Run... type sfc /scannow

(note the space)

(

Let this run undisturbed until the window with the blue progress bar goes away)
SFC
- Which stands for
S
ystem
F
ile
C
hecker,
retrieves the correct version of the file from %Systemroot%\System32\Dllcache or the Windows installation source files, and then replaces the incorrect file.
If you want to see what was replaced, right-click My Computer and click on
Manage
. In the new window that appears, expand the
Event Viewer
(by clicking on the + symbol next to it) and then click on
System
.
---
#27
Posted 30 December 2009 - 11:23 AM
Do you have Adobe Flash Player installed?

---
#28
Posted 30 December 2009 - 11:38 AM
Thanks Wannabe1 I was trying to think of the Flash and the Macromedia I guess it is.

---
#29
Posted 30 December 2009 - 11:50 AM
Yes I have it installed, and I just did the RUN: sfc /scannow and nothing came up.

---
#30
Posted 30 December 2009 - 11:54 AM
Hmmm I am wondering if doing a Parallel installation would find a problem Wannabe1?

---
---
Similar Topics
0 user(s) are reading this topic
0 members, 0 guests, 0 anonymous users
As Featured On: