disk space
Started by
maryberry
,
Jan 19 2010 10:59 PM
#31
Posted 24 January 2010 - 01:03 PM
i'm talking about how to do the file size first, where do i go for this?

---
#32
Posted 24 January 2010 - 01:15 PM
Topaz addressed that in post 23 as far as how to get to that part.

---
#33
Posted 24 January 2010 - 02:00 PM
ok i did the file thing do i or do i not download and use the CCleaner 2.27.1070?

---
#34
Posted 24 January 2010 - 02:07 PM
Doing it will hopefully clean up more space so as long as you follow the instructions for doing it then you should be ok.
DO NOT RUN
anything doing with registry cleanup.
Edited by rshaffer61, 24 January 2010 - 04:53 PM.
---
#35
Posted 24 January 2010 - 02:42 PM
ok i will run it and see what i come up with, thanks

---
#36
Posted 24 January 2010 - 04:03 PM
---
#37
Posted 24 January 2010 - 04:55 PM
No Registry Mechanic.
In my last post I specifically said not to run any registry cleanup. No harm done as long as you have not told it to do anything.
Look at post 28 from Topaz as it shows and instructs what needs to be done. What you are trying to do is uninstall all restore points except the last one. This will open more space on your drive.

---
#38
Posted 25 January 2010 - 07:04 AM
rshaffer61:
" ...What you are trying to do is uninstall all restore points except the last one. This will open more space on your drive."
To Remove all but the last restore point maryberry
Go to
My Computer
either by double clicking the
ICON on your Desktop
, or by clicking on
START >
My Computer
.
Once there
right click
on the
C: Drive.
Select
Properties
in the Menu which drops down.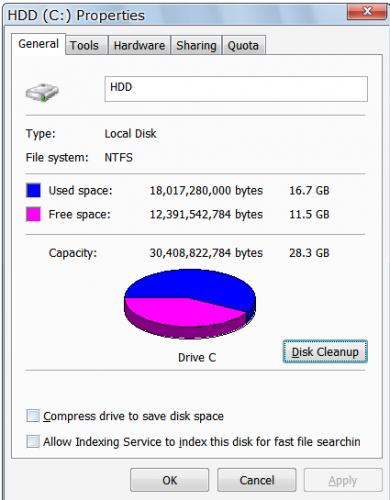 Click on the
Disk Cleanup
button.
It will do a disk compression calculation
(ignore)
for a minute then you'll be presented with a list of Files for deletion, these will be pretty small but check the ones selected in the picture,
no others.
See the RED Arrow, Click on the TAB, MORE OPTIONS .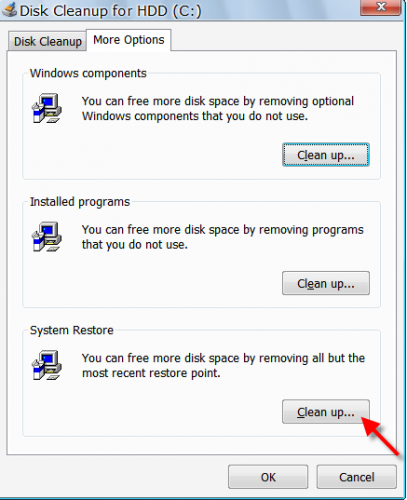 See the RED Arrow at the bottom, in the System restore section, click on
CLEAN UP
Then click on
O.K.
You will be asked, "Do you want to complete these actions", or something to that effect. Say,
"YES".
You should after a short while be taken back to the Initial picture of Properties > General Tab, with the pie graph.
Let's hear if you now have more free Disk space.
ps.
maryberry
do not use CCleaner, or, Registry Mechanic,
please, just the follow the instructions above for the time being.
Thankyou.

---
#39
Posted 25 January 2010 - 06:49 PM
ok this is where i tried to do the disk cleanup and it wouldn't do anything, i've even left it going for most the day before and nothing, but will give it a shot again.

---
#40
Posted 26 January 2010 - 08:00 AM
There's no need to wait all day, just do the clean all but last Restore Point, when the lights on your Computer stop flashing it's done.
Follow the instructions in post
Post #38
paying especial note to picture three.
Check your Disk Space now, you know how to, and report what it is, please.
THEN:Go to START > Accessories > System Tools > "click on" System Restore .
With the System Restore Window open you will see the first picture.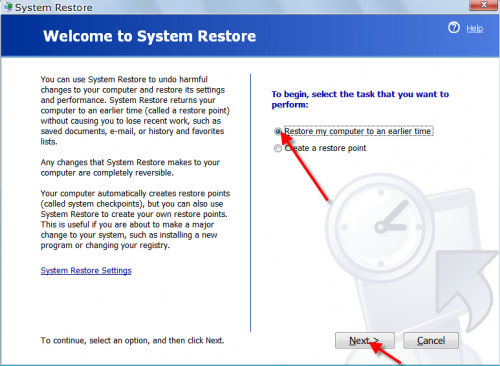 1.
Click on:
"Restore My Computer To an Earlier Time".
See the RED Arrows .
We are not going to Restore your Computer, we are going to check if you have any Restore Points, o.k. ?
2.
Then Click on
Next.
In my Picture you'll see a
Calendar. The BOLD dates are days I have Restore Points.
Windows hasn't made one Today on my System, but the Bolded dates have been created on previous dates as indicated by the Bold font.
maryberry, do you have any Bolded Dates on your Calendar ?
Please just look, take note and then close the window by clicking the
RED X
indicated with an Arrow.
Eventually, I want to resize your System Restore allocation size, and maybe your Page Swap File (Virtual Memory).
For now, if you could please confirm that all but your last Restore Point are gone, and check how much

FREE DISK SPACE

you have.
Also, please
Go To Control Panel
, and Double click on the
SYSTEM icon.
On the window that opens,
GENERAL TAB,
please tell me how much
RAM
is said to be on your Computer. It is stated at the lower part of that window.
Thankyou.
Edited by Topaz, 26 January 2010 - 08:03 AM.

---
#41
Posted 26 January 2010 - 08:07 PM
---
#42
Posted 27 January 2010 - 05:36 AM
Thanks maryberry,
I don't see your having any problems being online, taking snapshots, etc.
thus I feel we could say this Topic is done.
From your pics I see you have
248 MB of RAM
, which is the bare minimum of
RAM
to run
Windows XP
.
Get more, which will involve contacting a Computer retailer, then your System will work much faster, and easier.
Running
DiskClean
with Internet Explorer open is not a great idea, you have memory resources problem, thus any excess of programs running will kill System performance.
I'm sorry I can't "solve" this for you. we've spent a lot of time on it.
I suggest you spend some time, looking at your Memory usage.Right click on your Taskbar, on an empty space,
the thing were all your programs put an icon of open programs, at the bottom of your screen, and select from the MENU,
Task Manager.
In the
Performance Tab
you'll get a good idea of what your System Resources are in real time.
In the
Processes Tab
, a list of all running processes, (Programs, etc.) and how much Memory they are using.
I suggest studying and familiarizing yourself with these .
248 MB of RAM limits your System. We've tried to make space but seems your System is
stalling whilst trying to run DiskClean.
Y
(Actually, I believe it's Compressing your HardDrive as you have the checkbox to do that ticked. See Below.)
We could also get complex, and do some stuff which personally I just don't have the time to walk you through.
Personally I think some more RAM is going to wonders for you.
I would take a hard look at what program/s you can live without in the meantime, and uninstall them. Use your Computer wisely as far as resources, and study your
Task Manager .
Cheers,
Topaz.
EDIT:

I've just been looking over the thread and looked at this pic of yours: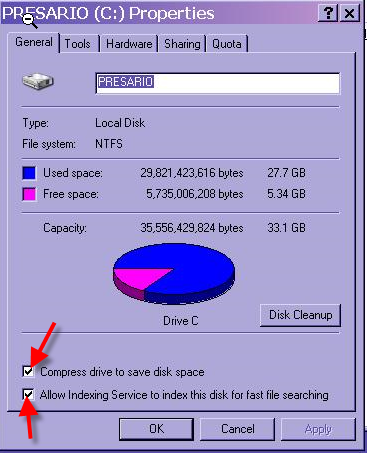 Why DiskClean isn't working is because you're compressing your HardDrive, which will take days..
Uncheck both the indicated boxes.
Go to START > RUN.
In the
RUN BOX type in services.msc
A window will open called
SERVICES.
Find
INDEXING SERVICE
in the list there.
Right Click on it. Select
Properties
in the Menu.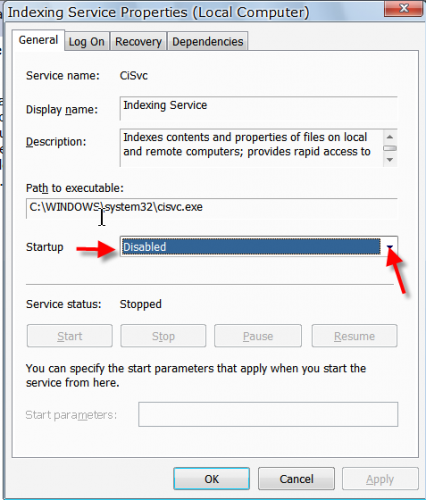 Click the Drop down Menu, indicated by an Arrow,
SELECT Disabled
, and make sure it displays as indicated by the Arrow as Disabled,
click on APPLY.
,
then O.K.
Close the Services Window, FILE > EXIT.
Then Reboot your Computer.
I believe this will at least give you more resources, as the INDEXING SERVICE is not needed, plus as I said, you have the "COMPRESS HARDDRIVE" checkbox ticked !
A lot of your problems will now be sresolved, I can assure you .
Let's see how that helps.

---
---
#44
Posted 27 January 2010 - 08:33 AM
This is looking like a problem more of just to much data and programs on the drive.
In most cases like this I would normally suggest purchasing a larger drive.
This is what I steted back on post 12 and I believe this is part of the problem.
Happyrock
has used the program he references with great success in freeing up space so I would suggest following his instructions.
As for the memory issue
Topaz
is correct and you do need to increase your memory to preferrably 1 gig which is XP's sweet spot for memory. This alone will help speed your system up. Being you only have a 30 gig hard drive then your system is older and you will have to look for maybe a 80 or 100 gig hard drive that will be compatible and work with your system.
Below are some links to help along with
Happyrocks
suggestion once you have completed them.
Go to
HERE
and run the
Crucial
online scanner.
This will give you the exact memory configuration for your system.
You do not have to buy the memory from there, but write down the information and if you need assistance in purchasing the upgrade memory GTG can assist with suggestions also.
TigerDirect
NewEgg
---
#45
Posted 27 January 2010 - 12:46 PM
Take care with Hotfix Installers guys, noticed
maryberry
has only
SP 1
, she'll need them when comes time to
update to SP2,and SP3.
I do feel she has been compressing her HardDrive when running DiskClean,
unchecking "Compress Drive to save disk space", and unchecking "Indexing Service" plus following my instructions to disable INDEXING SERVICE are essential steps to take NOW,
lets not get in a mess, I've spent too much time on this.
RAM, and a new HardDrive can come later, as they are certainly required.

---
---
Similar Topics
0 user(s) are reading this topic
0 members, 0 guests, 0 anonymous users
As Featured On: