So I'm running Windows XP Professional SP2 on my PC and it has been with me for quite awhile now. Just recently a couple of problems started to surface.
Firstly, when I start up my computer, I always have a need to run Windows Task Manager.
And this is problem my task manager always faces.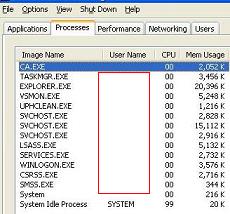 I have done the "services.msc - Terminal Services" thing. But the problem is that everytime I restart my computer, the same thing happens again. So I have to keep repeating the same thing everytime. It's really annoying and I hope someone here would have a solution to this problem.
Secondly, my Logitech USB mouse and keyboard stops working randomly. However I think certain programs might have triggered that to happen. For example, I run VLC media player, then my mouse and keyboard would stop working. But my speakers and external hard drive still continue to work. I tried replugging it into another USB port and it seems to work for certain ports randomly. Also when I get it to work, my CPU usage will shoot up to a 100% after awhile. I then realised that it was the usbport.sys thread in the "System" process that is causing it. I tried suspending the process but it just makes my mouse and keyboard stop working again.
Thirdly, this happens rarely but it still very annoying.
When I right click the drop down menu appears, and it gets stuck. And it won't go away no matter how much I refresh or click on other things. So once again I plea for help.
I know it's quite a lot of problems here but if anyone has solutions to my problems, I greatly appreciate your time and effort to try to help me out.
Also, here's a cookie